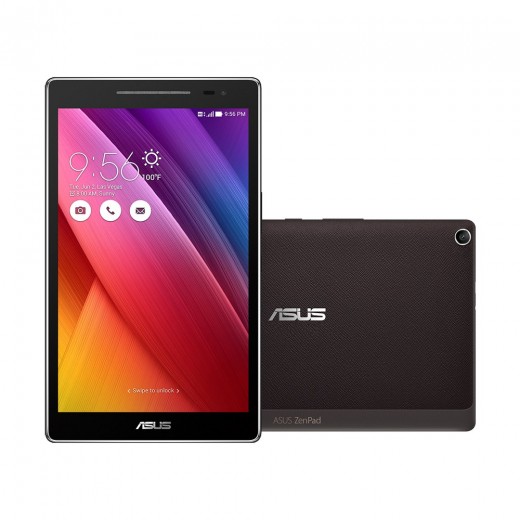 Breaking News! Here is the 8-inch ZenPad Z380C tablet! This is a medium spec tablet and will likely be priced very cheaply. If you want a more premium 8-inch tablet, then consider the ZenPad S8 (Z580C/CA). But given the likely low price point, this ZenPad 8.0 Series is a great option. There are a bevy of rather cool accessories which will enhance the Z380C, so stay read on for those details.
Price: Coming Soon
Release Date: July (unofficial)
Specs:
Intel Atom x3-C3230RK
4x Silvermont @ 1.2GHz
ARM Mali 450 MP4
1 or 2GB LPDDR3
8/16GB + microSDXC (up to 64GB)
8.0″ 1280×800 IPS LCD
209 x 123 x 8.5mm
350g weight
1 x front facing speaker with DTS HD Premium sound
2MP Front-facing
5MP Rear-facing
15.2Wh – 4000 mAh battery
Android 5.0 Lollipop with ASUS Zen UI
802.11b/g/n + BT 4.0, GNSS
Micro USB
available in black, white or Aurora Metallic
Overview:
The Z580C is part of the ZenPad 8.0 Series. Also included in the series, is the Snapdragon powered Z380KL, which include 4G LTE with voice. The biggest selling point of the ZenPad 8.0 Series is with the ability to customize the look and functionality of the tablet with tablet fit specific covers and cases. The back cover comes off, and these custom case/covers snap into place while matching the look and feel of the ZenPad without adding any extra bulk. The list of accessories include: Zen Clutch (fashionable cover), Zen Case (changeable back cover with five different color options), Power Case (a case with a built in battery that can extent battery life by up to 14 hours), and the Audio Cover which has 5 speakers in the case including subwoofer for a 5.1 surround sound audio experience.
The Z580C won a design and innovation award at Computex 2015. This would largely be the result of the customization features of the ZenPad 8.0 Series.
So more photos, reviews, and details, we have expanded coverage of the ZenPad 8.0 on our dedicated page here.
Photos: