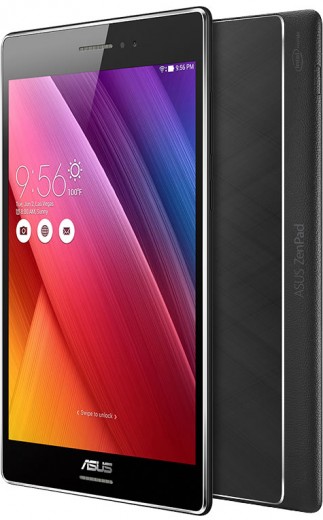 Are you sitting down? The true ZenPad hero, the fully packed version with the Intel Atom Z3580 @2.3GHz, 4GB RAM, 64GB storage, USB Type-C port, and Z Stylus pen compatibility is just $299 US. We've had this price confirmed from a US based retailer so we aren't pulling this number out of the sky. It's hard to imagine, but it appears true.
With all the work we've done behind the scenes over the past few months, we are actually blown away by this price. We have been holding off on our prediction, which was going to be a $349 US to $369 US price. It looks like even we underestimated the aggressive pricing. We are slightly apprehensive in mentioning $299, but it's online for all to see. As Asus Chairman Jonney Shih says so often about their products, "isn't it incredible"?
Important Note: We have confirmed this price with a large US based retailer, however Asus has NOT issued any official price information as of July 10, 2015.
How can Asus achieve such a price point? I would suggest, non evidence based mind you, that Intel has something to do with it. Intel needs to show the industry and consumers that their processors are legitimate for mobile devices. There is no bigger market for these types of devices (tablets and smartphones) than the US market, and it's quite likely that Intel has subsidized some of the costs. When you consider the fact that the Canadian retail price for the same model is expected to be $399, then there has to be something going on behind the scenes.
Is this available to pre order in the US? No. However, stay with us because we will break that news when it happens.
Keep in mind right now that there are a lot of moving parts regarding these tablet releases. Retailers showing odd configurations that contradict other retailers listings, etc. We are sensitive to posting prices because we know that's what a  lot of you want and expect from us. Accurate prices! We've asked and this price was "confirmed". Is it an official price from Asus? No it is not. Keep in mind that the ZenPad S 8.0 (Z580C) model is verified as being $199, then it's not that unimaginable that for another $100, Asus could reach a $299 for the fully packed Z580CA version.
Further, consider the UK price of their variant of the Z580CA. It's priced at £199.99, which when you do a number crunch (a bit complicated but for you we've done the heavy lifting…) the price in US is around $229 US to $237 US. In fact we've seen a cached price from a US retailer showing an equal Z580CA to the UK version for $229 US. Since it's not a live page, we are cautious with throwing that price out there. So if you add more storage, more RAM and a faster processor, could Asus do that for around $80 more? Perhaps, especially if Intel is subsidizing costs/prices for the US market.
Note: If you live outside of the US, you won't be able to just do a currency conversion and expect that you will see the same price. Our belief is that this aggressive price point is basically exclusive to the US market. It may be more realistic to take the expected $399 CAD (Canadian dollar) retail price and then convert to your own currency. It's very difficult to predict how prices will fluctuate from market to market, so please keep that in mind.
Source B&H: