Part of what we want to do for you is help get you the best prices on ZenPads and accessories. As a result, we watch various retailers to see what's going on and if there are any deals to be had. Did we expect to be report an actual price increase from a retailer? No, this is quite unexpected to be honest.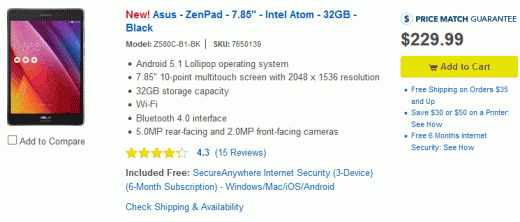 So it was a couple or three weeks ago that Best Buy made big headlines on the various technology website by being the first to sell and ship the ZenPad S 8.0 (Z580C). One of the real eye grabbers though, was that $199 price tag. If you look for the headlines, pretty much every article made mention of the amazing $199 price tag for a premium spec tablet.
So today we must report that for whatever reason, Best Buy is showing a price of $229 US for that previously $199 US tablet. We can't sit here and say why or whether this is a temporary situation. We've already used this phrase today, but it's a bit of a head scratcher.
Consider too, that the Z580CA is coming very soon for $299. If retailers move to a $229 price for the lesser Z580C model, then it's going to be a tougher decision on which model to buy. Suddenly the price disparity becomes far less.
As an alternative, we've also spotted this same version, the Z580C, on the US based Asus online store for the $199 US price. So you still have the opportunity to get this tablet for $199. In addition, there are a good number of other websites taking pre orders for this particular model and those are likely to be shipping very soon.