Update: Leading up to Computex 2016 in late May, early June we are most curious about a new product from Asus. The product is all but confirmed but it's just not clear yet whether it will be part of the ZenPad lineup. Asus is poised to release a competitor to the Microsoft Surface. So this will be a tablet with a kick stand which comes with an attachable keyboard. We are most curious about a ZT500KL listing.
Let's look at the ZT500KL and whether that could be one of these newly designed transformer style 2-1 laptops. With the new transformer being a Microsoft Surface competitor, that would be a Windows device. From what we see, the ZenPad lineup is for Android. There has never been an indication that the ZenPad products will also include Windows OS.
However, if Asus is going into these new 2-in-1 designs in a big way, we can also say with certainty that the ultra popular Transformer has not seen a release in quite some time. Thus, it's entirely feasible that there could be a new Android 2-in-1 from Asus that falls into both the ZenPad branding and the Transformer branding. This does not mean that a different branded Windows version won't exists. In fact Asus could have both Android (ZenPad) and Windows (VivoBook or ZenBook) versions available. They can easily co-exist and have in the past.
Here is a look at a screenshot from the most recent Asus investors conference. It's not clear at all what the OS is being used, other than there is a kickstand.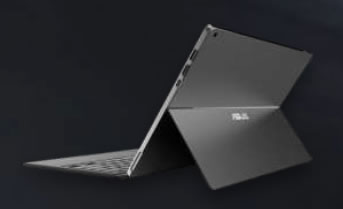 With the close design to the Microsoft Surface, we wonder out loud whether there is a patent issue at play. Asus and Microsoft have recently made agreements to work together regarding certain patent issues. If that's true, then would Microsoft even allow Asus to create an Android version which bares so much resemblance to the Microsoft Surface?
---
Like the netbook, Asus pretty much created the convertible tablet/laptop category. The idea of a removable tablet has been a major innovation that Asus showed off in 2010 and has since improved the design. There have been a great number of copy cats out there, but Asus created and provided the innovation behind the original tablet hybrid convertible design. One could say that the future for laptops is in the Transformer style 2-in-1 devices. People tend to spend money on keyboard cases, so why not just have the entire device have the ability to transformer itself into a full fledged laptop instead? It just makes sense.
One question remains right now. What's in store for 2015 and the ZenPad Transformer? Will there even be a ZenPad branded Transformer? It's just not clear at this point, other than what Asus CEO, Jerry Shen mentioned which was all tablets from Asus will be ZenPad. From that statement, we're assuming the Transformer lineup will be part of the ZenPad brand. My understanding from the investors conference is that Asus wants to release fewer tablet models, in which case, having the "Transformer Pad" brand for Android and "Transformer Book" branding for Windows, in addition to the "ZenPad" brand, won't exactly help with the goal of having fewer products.
The original Eee Pad Transformer was named the TF101. From there, Asus released the Transformer Prime tablet TF201, then the Transformer Infinity TF700, the TF300 series, the "new" Transformer TF701, the Transformer Book, the Vivo Tab 810, Transfomer TF103C, Transformer Trio (boots into Android OS or Windows OS), T100, and most recently, they released the T103. That's a lot of Transformer tablets over a short period of time. We almost forgot to mention the most recent addition, the Transformer Book Chi T100 models which are high end and come in two different sizes. I haven't mentioned the Transformer Book V, which is the most robust laptop/tablet hybrid convertible device ever conceived and shown to the public.
So ultimately the question remains how Asus plans on dealing with the Transformer brand. It's their strongest seller, but does this qualify as a "tablet" in their mind? They could go with ZenPad Transformer, which we like. But that branding still won't deal with the "Transformer Book" lineup which is the Windows branding. Thus, does there need to be a "ZenPad Transformer Book"? Then is starts getting a big long winded. The question is, do you like it? If Asus want to trim off the fat, then they really need to bring all the models into the one ZenPad umbrella. Whatever happens, we're just excited to find out how this all goes!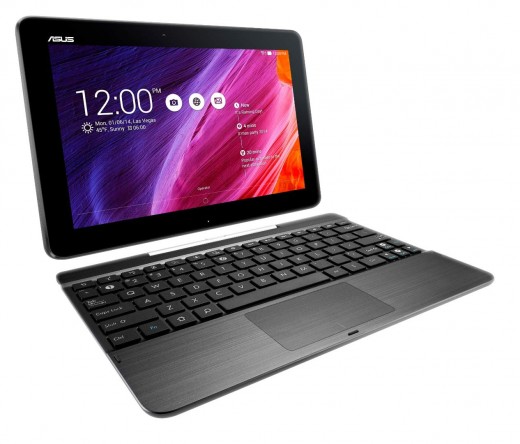 Perhaps the last and greatest Transformer Pad ever released – TF303CL