Update: Dec 19 – In Stock – Now available for just $299 USD in Gray or Silver. We have details, just click the button below for full details!
Order Now – US or Canada
---
Asus ZenPad 3S 10 (Z500M) Review
Firmware Version: MRA58L.WW_ZenPad-13.6.10.7-20160923

Overview
What a difference a year makes. Last year Asus rebranded their long standing tablet line-up from Eee Pad to ZenPad. And with that, they released a deep and diverse number of tablets. Then the tablet market slowed, and slowed even more this year which ended up being bad news for Asus and their ambitious tablet launch.
So in a drastic change of direction, the ZenPad 3S 10 is one of the very few tablet releases from Asus this year. But don't worry. The lack of variety from Asus this year in the tablet division doesn't mean the sky is falling. In fact, when you look at the final results of this direction you might think they are onto something here. Reducing the number of tablet releases has increased the quality and attention to detail. As the saying goes, sometimes less is more.
The ZenPad 3S 10 is built to compete with the Samsung Galaxy Tab S2 and iPad Air 2 and is good enough to compete with the future Samsung Galaxy Tab S3 and iPad Air 3.
But as always is the case, there is one big exception between Asus and the other guys. Asus always manages to have cheaper prices. The ZenPad 3S 10 (Z500M) delivers a flagship tablet without a flagship tablet price tag.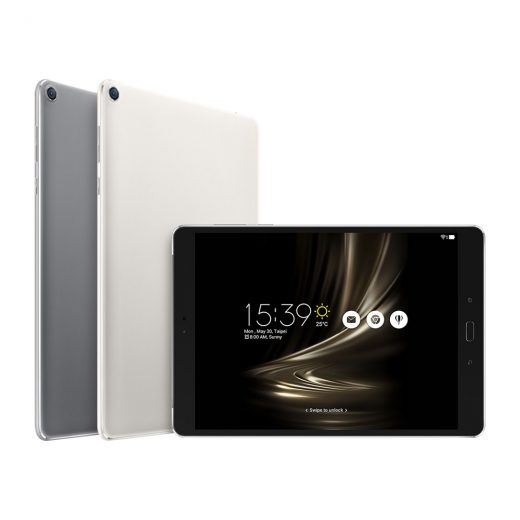 A Quick Look At the Asus ZenPad 3S 10 (Z500M) Specs:
Display – 9.7-inch QXGA (1536 x 2048)
OS – Android 6.0 Marshmallow
Processor – MediaTek MTK MT8176 Dual-Core 2.1 GHz +Quad-Core 1.7 GHz , 64bit
RAM – 4GB
Storage – 64GB (microSD card slot for up to 128GB additional storage, 5GB lifetime Asus Webstorage, 100GB Google Drive storage for 2 years)
Graphics – IMG GX6250
Audio – 2 x 5-magnet speakers with DTS HD Premium Sound, DTS Headphone:X, 7.1-channel virtual surround, Sonic Master, Hi-Res Audio
Battery – 5900mAh with Qualcomm Quick Charge 3.0 technology (quick charge adapter sold separately)
Size – 240.5 x 163.7 x 5.8 ~ 7.15 mm (L x W x H)
Special Features – fingerprint sensor, Z Stylus (sold separately) support
Cameras – 8MP rear and 5MP front
Weight – 430g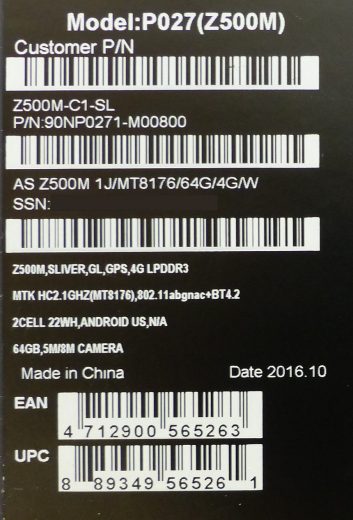 Design, Looks, Build Quality
With the ZenPad S 8.0 tablet series from last year, Asus proved their ability to make an amazingly designed tablet. This year, Asus has taken that level of excellence and pushed the bar even higher with the ZenPad 3S 10.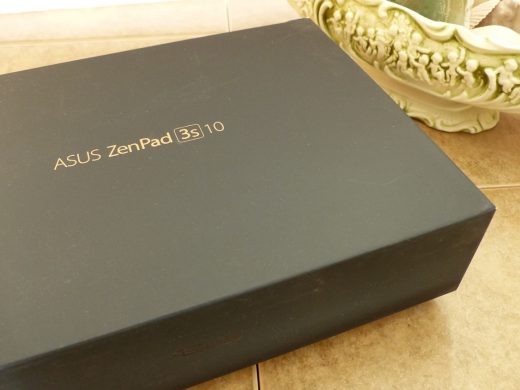 When I first unboxed the ZenPad 3S 10 (Z500M) I was impressed. Visually it embodies what most people expect from a flagship device. Looking at, picking up, and handling the Z500M is a pleasure. The body is aluminum which provides a premium look and feel which begs not to be covered up with a case or cover.
With the $299 USD price tag it's far more beautiful than what you might expect and it's on par with the expensive top end tablets from the big boys Samsung and Apple. It's quite clear that Asus aspires to be mentioned in the same sentence as those two market titans.
The tablet is light at just 430g and is 5.8mm thin. Asus also boasts that it has the world's smallest bezel which is at 5.32mm. This narrow bezel essentially means that it's going to be an easier 9.7-inch tablet to hold in your hand. A narrow tablet is certainly more desirable but at the same time fingers need somewhere to grip!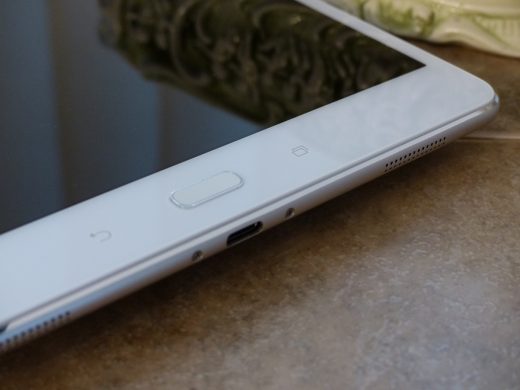 A big area of improvement this year is with the volume and power buttons. The ZenPad 3S 10 buttons are located on the right side of the tablet and provide a solid, responsive, tactile feel. This is certainly an improvement over what the flagship ZenPad S 8.0 was able to provide last year. These buttons on the Z500M are much more responsive and more solid. The concentric circle design (Asus loves this) texture on the surface of each button is distinct and is rather pleasing to the touch as well!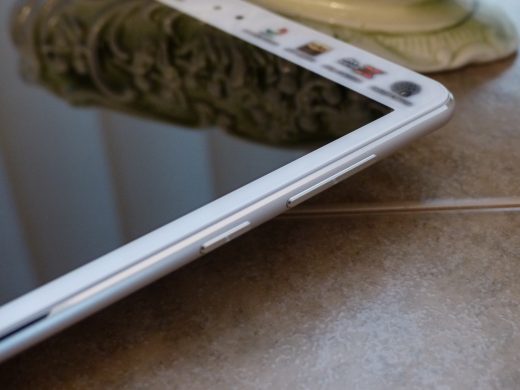 The ZenPad 3S 10 (Z500M) comes in two different colors. We have the Glacier Silver color for our review which has the silver rear and white bezel. Asus also offers a Slate Gray color which has a black front bezel.
Display
The ZenPad 3S 10 (Z500M) provides a flagship quality resolution at 2048 X 1536. Asus offers a few technologies inside the ZenPad 3S 10 which can enhance the viewing experience such as Tru2Life, TruVivid and Bluelight filter. Simply said, the display of the ZenPad 3S 10 didn't disappoint.
In terms of brightness, the ZenPad 3S 10 is excellent. Outdoor viewing is not an issue thanks to the 426 nits (brightness) display. If you're wondering how bright the screen is compared to other top tablets, be assured that at the time of writing (Fall 2016) that the ZenPad 3S 10 is right in the top tier. It outclasses the iPad Air 2 and is near the same level as the Samsung Galaxy S2 which has 450 nits.
Asus includes the Splendid app that allows for various tweaks of the display. If you're using the tablet at night in a darkened room, the Bluelight Filter mode is recommended. I found the display excellent without the need to tweak any settings via the Splendid app but the option is at least available.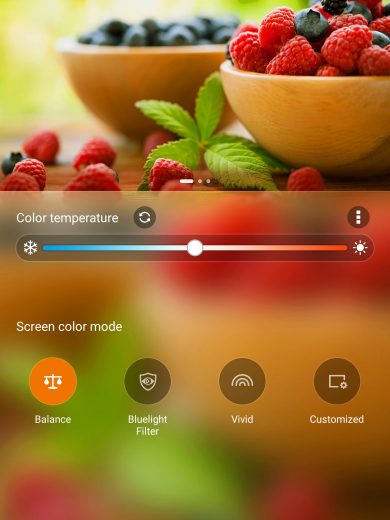 This bright, high resolution display puts the ZenPad 3S 10 in the upper class of tablets. A nice display is a critical aspect of a tablet experience and be assured you won't be disappointed here.
Audio
The ZenPad 3S 10 feature dual stereo speakers which are bottom mounted beside the USB-C port. This placement is a pretty standard speaker location for most flagship tablets from companies like Samsung and Apple. The first generation ZenPad tablets all featured front facing stereo speakers, so it's a bit disappointing that Asus had to redesign and side mount the speakers on the ZenPad 3S 10.

Asus boasts a lot of features and technologies when it comes to the audio experience of the ZenPad 3S 10. The tablet has dual 5-magnet speakers which are driven by a NXP Smart AMP. The ZenPad 3S 10 has certified high-resolution audio to compatible devices at 24-big/192kHz. Headset wise you get DTS Headphone:X technology which provides 7.1-channel surround sound. So with all these features and hardware, does the tablet deliver a top of class audio experience?
The audio quality from the ZenPad S10 is solid and loud. I've read other reviews which speak highly of the speakers and audio and I would agree for the most part. The speakers are about as good as you could expect because when devices get this thin and light they just can't product much in the way of bass or bottom end.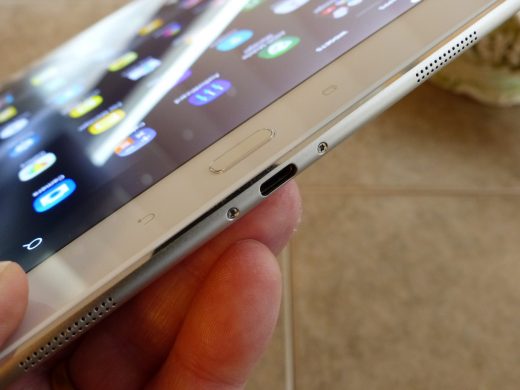 It's possible for tablet speakers to produce a thicker and more bass filled sound. Asus already proved this last year. Look no further than the ZenPad 10 as an example of what I'm talking about. The ZenPad 10 is a thicker and heavier tablet but it had the best audio performance of any ZenPad tablet released last year. Thin and light tablets have their drawbacks regarding speaker performance, but by no means am I suggesting the speakers on the Z500M are bad, but there are some limitations.
The speakers and audio performance can be tweaked via the "Audio Wizard" app which provides some equalizer and preset options. You can try boosting base from within the app for moderate effect when using the speakers but the effect is more profound when using a headphone. Overall I found with the Audio Wizard that when you're using a headset or portable speaker the effects and adjustments are more pronounced.
The Audio Wizard offers a deeper range of setting when you plug into the headphone port. You simply click the headphone icon in the app and then you can further choose from three different settings for "Optimized audio effect" for wired in ear, wired over ear, or Asus EL33 headsets. Because we're talking about dts headphone technology at work, I can say it does improve the audio and listening experience. I think the more tweaking there is available when it comes to audio the better. It's there if you want it and honestly it's worth testing out if you buy this tablet.
Benchmarks
Just a personal note and mini rant about this benchmark section. Benchmarks are something that need to be kept in perspective. There is a difference between using a device and basing an opinion on user experience as opposed to drawing conclusions from a bunch of number comparisons.
I know from using the ZenPad 3S 10 that it will provide the speed and power that most everyone desires regardless of how the benchmark numbers stack up against various other tablets.
I've done my best here to include as many benchmark comparisons as possible.
ANDEBench Pro 2015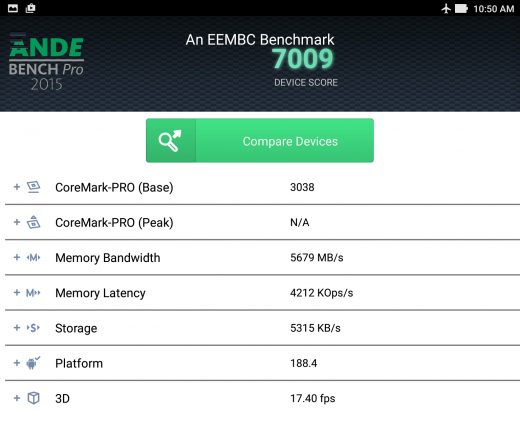 ANDEBench Pro 2015 Benchmark Comparisons:
Benchmark
ZenPad 3S 10
Nexus 9
Galaxy Tab S
ZenPad S 8.0 (Z580CA)
ZenPad Z8
ANDEBench Pro
2015
7009
14126
6490
7799
5221
AnTuTu Version v6.2.6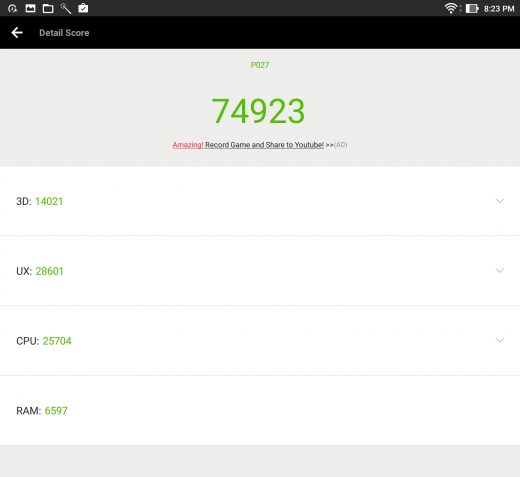 Overall: 74923
3D: 14021
UX: 28601
CPU: 25704
RAM: 6597
Antutu Benchmark Comparisons:
Benchmark
ZenPad 3S 10
iPad Air 2
Galaxy Tab S2
Galaxy Tab A
(10.1-inch)
Galaxy Tab E
(9.6-inch)
AnTuTu
v6.2.6
74923
103828
66374
45912
18692
Basemark OS II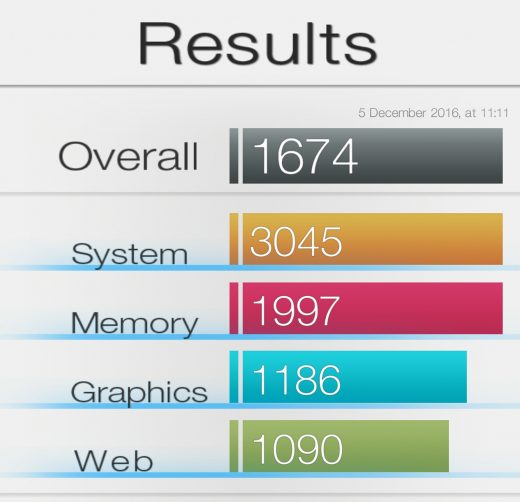 Overall: 1674
System: 3045
Memory: 1997
Graphics: 1186
Web: 1090
Basemark OS II Benchmark Comparisons:
Benchmark
ZenPad 3S 10
iPad Air 2
Galaxy Tab S2
Basemark OS II
2.0
1674
1910
1066
Basemark X (graphics benchmarks)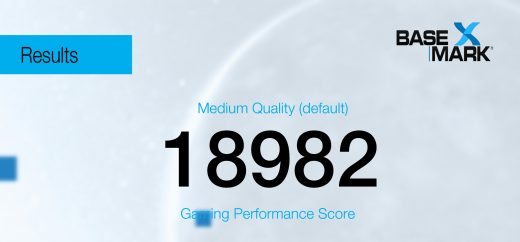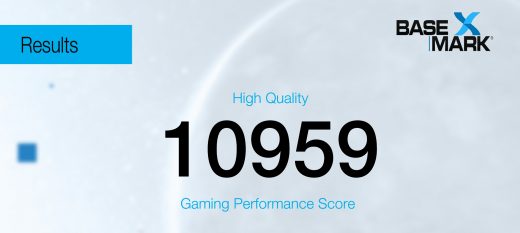 Medium Quality (default): 18851
High Quality: 11092
Vellamo
Multicore: 2700
Metal: 2589
Chrome Browser: 4580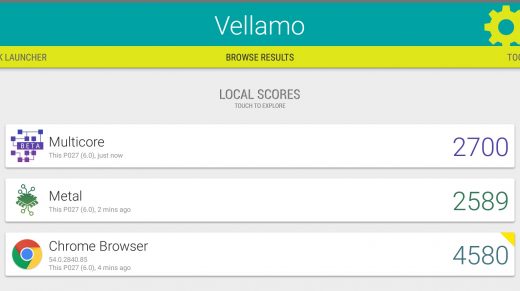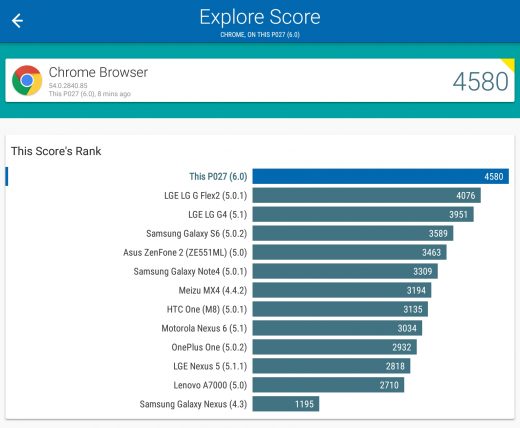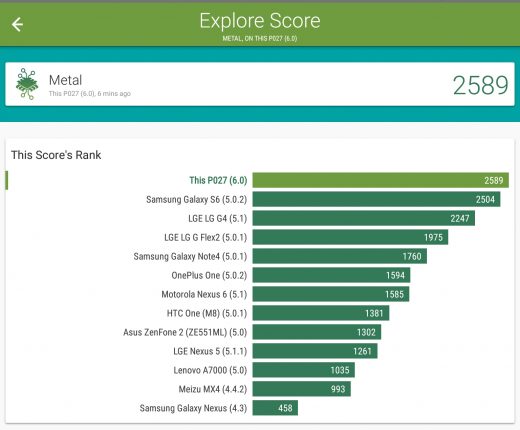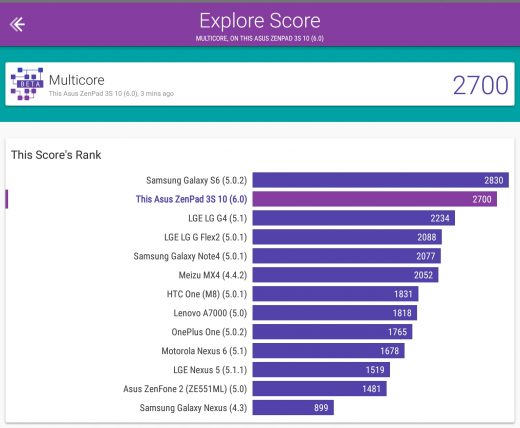 ZenUI and Operating System
The ZenPad 3S 10 (Z500M) ships with Android 6.0 Marshmallow with Asus ZenUI 3.0 integrated into the Android OS. If you're wondering what ZenUI is, just think of it as an Asus skin on top of the Android OS. It adds a layer of customization and personalization along with some pre installed Asus apps.
ZenUI is currently version 3.0 which has made a lot of improvements and changes which are too numerous to mention in this review. I will discuss a few of the highlights below.
When you first use the ZenPad 3S 10 (Z500M), you get a lot of instructions popping up onto the screen as you open apps for the first time. Think of it like training mode. It's a minor hassle having to press "got it" or "skip" but thankfully it's a onetime nuisance.
In general there are around 3 of 4 pages of tips to swipe through if you are the kind of person that likes to educate yourself on how to use an app and what functionality it provides. If you're not that kind of person, simply choose "skip" and be done with it. These types of app tip screens and quick tutorials are not uncommon and most operating systems treat new users to the same type of tutorial/tip popups.
Example Screenshots Of Tutorial Pop Ups: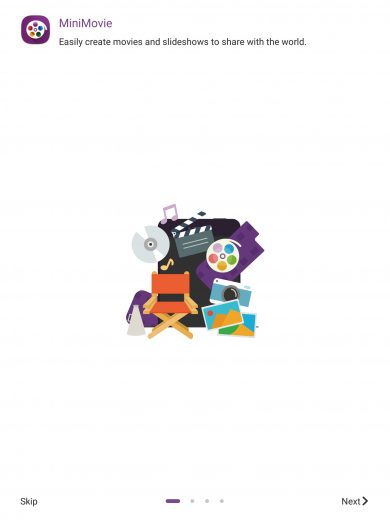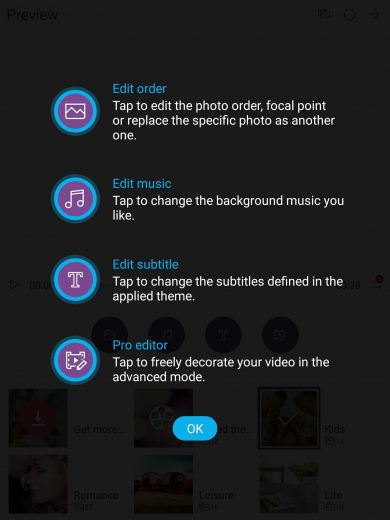 A common complaint against Asus in years past is regarding pre installed apps also known as bloatware. It's important to keep in mind that complaints you might read about Asus bloatware may be outdated. Last year there were more pre installed apps on Asus devices and removing or disabling those apps was more problematic than it is now with the new ZenUI 3.0 version. It does appear that Asus listened to the consumer complaints. You can likely find online rants but be aware of the dates of those complaints. Things change!
Personally, I don't have issues with pre installed apps. I don't worry about extra icons on my screen and I don't worry about storage space or other related concerns. I understand that I may be in the minority with this view. If some pre installed apps means a cheaper device, then I'm fine with that trade off.
I think it's worth mentioning the ZenUI 3.0 keyboard flexibility and customization. I did read a review online that was critical about the ZenUI 3.0 keyboard but I would suggest that the reviewer in that case didn't fully use the options and customization that is available.
If you are familiar with Android or iOS touch keyboards, then the Asus customization will be of interest to you. The fact is you can expand the keyboard default size to something that takes up three quarters of the screen. As you can imagine, this means the buttons are much larger and easier to touch accurately. In fact holding the tablet in portrait mode with the largest possible keyboard size puts the keys in a more appropriate placement for easier typing!
If you're worried about losing screen real estate because the keyboard it too large, don't worry about it. When you are entering text into an input field, you do not need to see anything else other than the text entry and the keyboard itself.
You need to set your preferred size in both the landscape and portrait modes so keep that in mind if you end up buying this tablet and want to tweak the keyboard.
Landscape Comparison – Default vs. Largest Size Keyboard: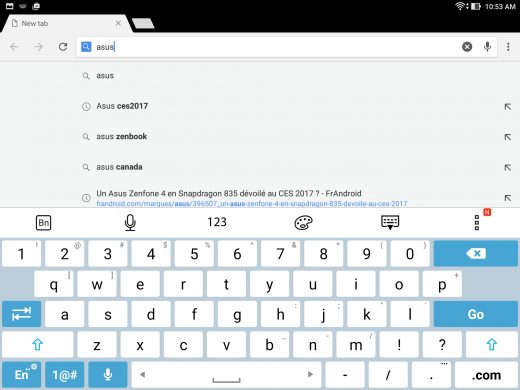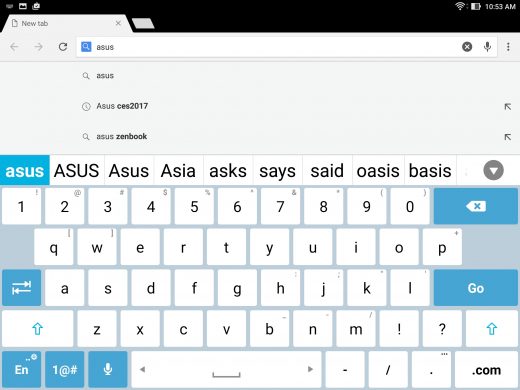 Portrait Comparison – Default vs. Largest Size Keyboard: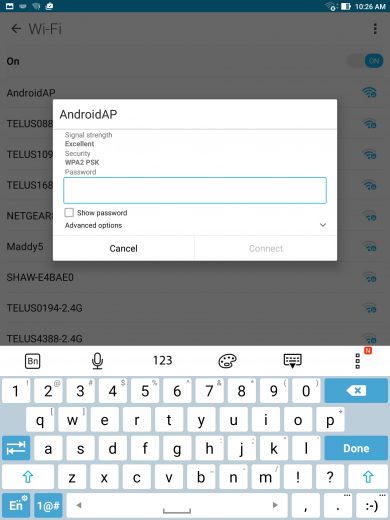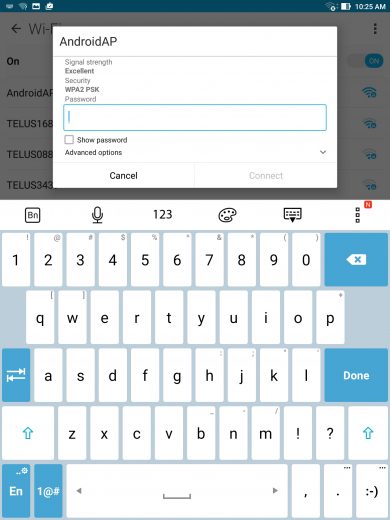 Touch Gesture is another ZenUI 3.0 feature that is pretty cool. When the tablet is in standby mode (screen is black) you can swipe certain gestures which will auto open an app of your choice. If for example you make the letter "C" on the display, the tablet will wake up and open the camera app. You can fully customize what app opens with what gesture you write on the screen. So in the "C" example, you can go into the settings and make the "C" open up once of your game apps, a browser or a variety of other options from a list. Asus also has the nifty double tap the screen to wake it up or put it to sleep within the Touch Gesture settings.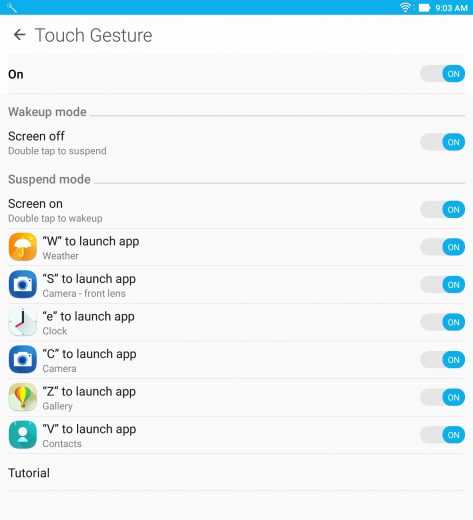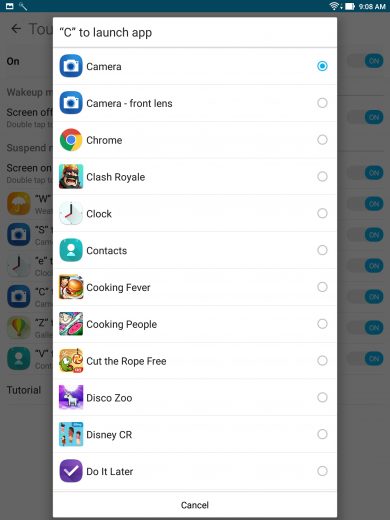 ZenUI 3.0 offers quite an astonishing amount of customization in terms of look and feel. This means numerous wallpapers including live wallpapers with animations. You can tweak icon sizes to your liking as well. If you like bigger targets for your fingers to press and or larger font sizes, you will be happy.
It's quite quick to get into the customization settings. The easiest way I found was to hold down a finger on the screen (from any home screen) which brings up the "Manage Home" settings. From here you can find customizations to make your tablet more comfortable for you. There are themes as well which have matching icon sets.
You could spend a lot of time customizing and personalizing your ZenPad 3S 10 and this is an often overlooked and understated feature of Asus ZenUI.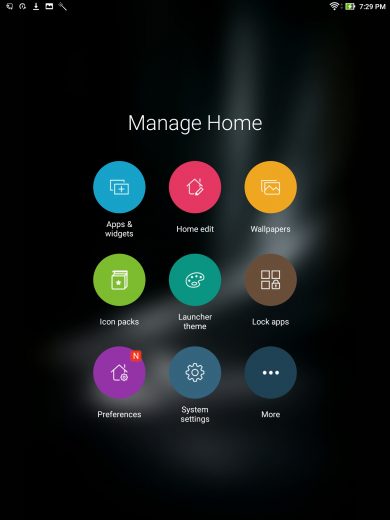 As I mentioned there are too many settings and features in ZenUI 3.0 to mention here. Expect to see a full ZenUI 3.0 review on the site soon which will give a broader view of all the various mode, settings and tweaks available.
Battery Life
The Z500M comes with a 5900mAh battery which is about average for this size and resolution tablet. Consider that the 8-inch ZenPad S 8.0 comes with a 4000mAh battery and the 10-inch ZenPad 10 (Z300C) comes with a 4890mAh battery.
A key feature of the ZenPad 3S 10 (Z500M) is the nifty Qualcomm Quick Charge 3.0 technology onboard. Qualcomm claims it will charge 4X faster than the default charger. Be aware that the tablet ships with a regular power adapter and if you want to have the quick charge functionality, you will need to buy a certified 18W adapter.
The official Asus product page for the ZenPad 3S 10 does little to explain the mystery of how fast the tablet will charge when using the Quick Charge 3.0 technology. It's actually hard to find Quick Charge information as it pertains to the ZenPad 3S 10. It's hard to know how big of a selling point it is and there simply aren't reviews out there (ours included) that offer clear data on charging times using Quick Charge 3.0 technology. Qualcomm suggests you should get from 0% to 70% in around 30 minutes time but that's a general statement and not specific to the ZenPad 3S 10.
Disclaimer: When conducting these battery tests, I'm relying on the battery percentage display. The review unit is new and I have no reason to doubt the accuracy of the readings. Some folks (like say, Apple employees) might question the accuracy of a percentage number in settings, but this is what I'm relying on. It's what I've relied on in every previous ZenPad review that I've done. With the experience testing and using most of the previous ZenPad models, I hope you can appreciate that I have a good basis for comparison regarding the ZenPad 3S 10 (Z500M) battery life. At this stage of doing reviews, I don't have high tech testing equipment. What I do have though is common sense and experience which I hope fills you with confidence 😉
Based on my testing, the charging times will vary slightly depending on your starting point. Using the bundled power adapter, from 6% to 100% (94% charge) took around 2hrs 45min. During that long charge, the tablet was at 67% (61% charge) after 1hr 30min. In a different charging test, from 30% to 100% (70% charge) took around 2hrs 15min.
So boiling this down to practical terms, from 0% to 60% will take approximately 1.5 hours. If you so happen to fully deplete the battery (a rare instance indeed) a full charge would take around 3 hours. In a more common scenario when your battery is at 50% and you want to fully charge the tablet, it will take just under 2 hours based on my testing. If the battery is around 30-40% then you are looking at just over 2 hours charging time to make it 100%.
Unlike other websites that like to run looping style tests, I'm going to give a more practical review of the ZenPad 3S 10 (Z500M) battery life.
I ran video tests, gaming tests, and general use tests for the ZenPad 3S 10 (Z500M) battery life. Tests were done with two different brightness settings. One test using full, 100% brightness and a second test was done using 50% brightness. Each test was performed with the onboard speakers, set at around 50% volume. Airplane mode was set to on and not other apps were open during the testing.
Test 1 – Full brightness, action movie 16:9 (black bars on top and bottom) duration 2hrs 4min
Used 36% of the battery from starting at 100%
Used 34% of the battery from starting at 64%
So running the same movie twice in test 1 conditions, I was left with 30% battery remaining.
Test 2 – 50% brightness, action movie 16:9 (black bars on top and bottom) duration 2hrs 4min
Used 18% of the battery starting at 100%
Used 18% of the battery starting at 63%
So running the same movie twice in test 2 conditions, I was left with 64% battery remaining.
Test 3 – Full brightness, action movie 4:3 (full screen, no black bars) duration 2hrs 4min
Used 30% of battery from starting at 100%
Test 4 – 50% brightness, action movie 4:3 (full screen, no black bars) duration 2hrs 4min
I conducted some gaming tests and how the battery life performs. These tests are based on one hour of continuous game play using graphically intensive games. In test 1, using full brightness and 50% volume, I used 34% of the battery. In test 2, using 50% brightness and 50% volume, I used 21% of the battery.
Conclusion of the video and gaming battery tests: One thing is certain. If you want to stretch out the battery life of the ZenPad 3S 10 then turn the brightness down from 100% to around 50%. Seems obvious but at least you can get an idea of the impact of full brightness on battery life. You're going to use about 50% less battery life in comparison to using this tablet at full brightness.
I'm an advocate of using devices at their maximum potential, which means brightness cranked up to 100% all the time. But ultimately it depends on where you're at and what you're doing. If you need the battery to last all day then you need to be conservative.
The ZenPad 3S 10 (Z500M) has decent battery life. It's not top of the class but with a reduction in screen brightness the battery can extended much further. It goes without saying that dimming brightness will reduce battery usage but I'm mentioning it because you can decide what battery life you will demand from a tablet and whether you will be happy with what the ZenPad 3S 10 can provide. If it is less than ideal, consider that portable battery packs are inexpensive solutions when faced with extended times between access to a plug-in charge.
Standby Battery Performance: Standby battery life is excellent. If you are diligent about closing out your apps before putting the Z500M aside for a day or two or more, you will enjoy peace of mind knowing that the battery will be close to how you left it even after a few days time. Of course there are some variables such as wifi strength and apps running the background which may skew certain results, but if you follow best practices, you will be more than satisfied.
With wifi on (full strength signal) and no open apps, at 11pm leaving the tablet overnight and checking at 10am the next morning, the battery did not drop a single percent. I decided to run the standby test a bit longer. It was at 3:30pm that the battery dropped one percent only. That's about 16 hours standby before the battery dropped by one percent. At 9am the following morning the battery hadn't dropped from the last time I checked at 3:30pm. Later that night, it did drop another percent, but the point is that in a full day (24+ hours), the tablet battery percentage dropped by one percent.
Special Features
Fingerprint sensor: Some people will be thrilled to have a finger print sensor on the ZenPad 3S 10. It's fast and it's convenient and works as you would expect. This will be especially useful for those who venture out in public with their tablet and make use of security functions.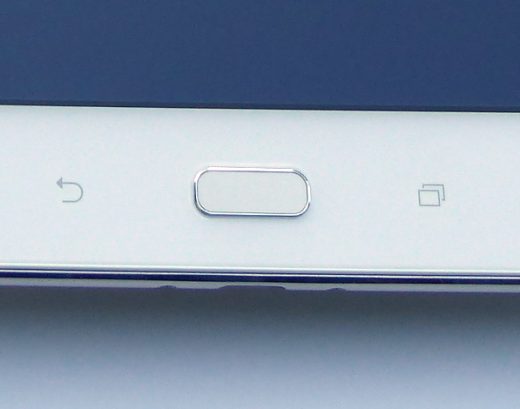 Z Stylus (sold separately): The Z Stylus is a $30 USD digitizer stylus pen which works on a few ZenPad tablets. Asus touts the Z Stylus as having 1024 levels of pressure sensitivity, a 1.22mm writing tip and 150hrs battery life. I previously wrote an extensive Z Stylus review which you can read here. A lot of the features and settings in our previous review apply to the ZenPad 3S 10 (Z500M) as well.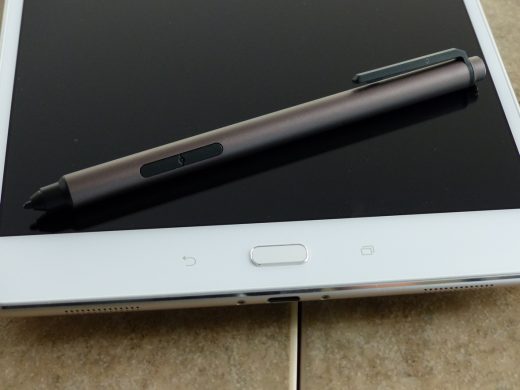 The Z Stylus is compatible with any stylus apps for Android and the touch sensitivity will also work on those same apps. Asus includes SuperNote which is a fairly robust app which makes use of the Z Stylus capabilities like pressure sensitivity.
The big issue with stylus input on tablets and smartphones is with accidental screen touches. To use a stylus effectively you need to treat your tablet like a pad of paper. A thumb gripping the corner of a device can result in some frustration because often times during stylus usage, the screen is active to finger touches. This is where Asus comes to the rescue.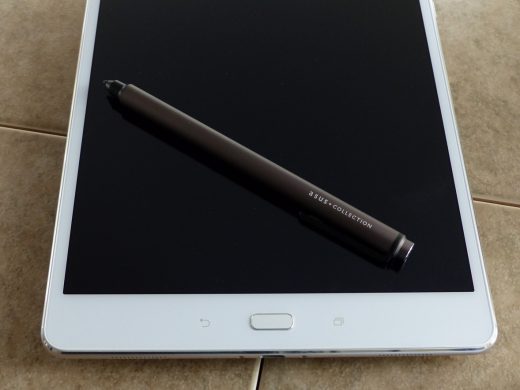 The brilliance is in the Z Stylus settings where you can prevent accidental touches by something called "Stylus only mode". Asus describes this setting as "pause touch mode after Z Stylus leaves the screen". How this works is quite wonderful. You can set the amount of dead time (from 1 to 5 seconds) on the display AFTER you pull the Z Stylus away from the screen.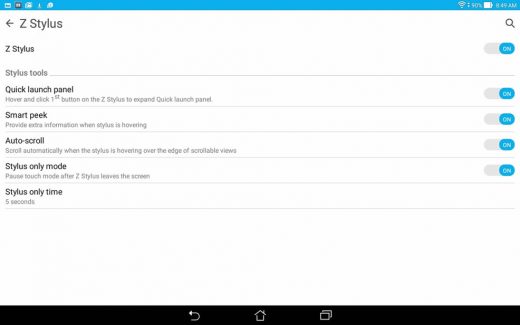 With some testing, I found the "5 seconds" setting the best because when you're using your tablet to write or drawn on, you will just naturally lift the tip off the screen. If you pause for a thought before writing or drawing the next line on the screen, the 5 second delay provides you peace of mind that your thumb or finger touches are not going to trigger something on the screen. Be assured that this one setting makes a huge difference and makes the Z Stylus experience pleasurable rather than frustrating.
The Z Stylus accessory is $30 USD so expecting a professional grade level of accuracy or precision isn't realistic. I'm not a professional artist so I cannot speak to the quality of the Z Stylus to the more premium offerings on the market.
The Z Stylus does give you another level of usability for the tablet which is something other flagship tablets cannot do at least at a comparable price range. You will find it extremely helpful and handy if you have children who like to doodle and you can also use it very effectively for school related activities including note taking and studying.
Cameras
Asus cut costs in many of their ZenPad tablet model last year by dialing back the cameras with the exception of the most premium ZenPad S 8.0 (Z580CA).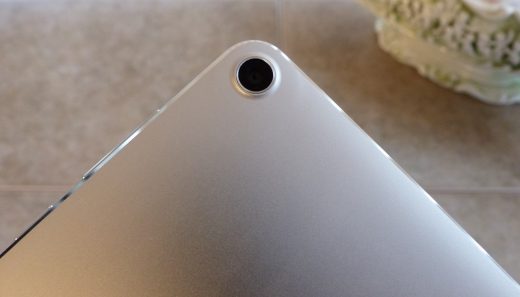 In the case of the ZenPad 3S 10 (Z500M), you're going to get a very usable camera experience from the 8MP rear and 5MP front cameras. Perhaps not on the same level as the iPad or Galaxy Tab flagships but also consider price differential. The ZenPad 3S 10 cameras are at least fully capable of recording 1080p video from either camera, can snap good photos for social media and provide decent video chat quality.
Taking photos may require a bit of patience depending on the lighting. Too much light means washed out colors and not enough light means better colors but darker overall image. You can touch the screen to change the focus point which help find the sweet spot. If I touched the brightest area in the viewfinder, I found most times the camera would adjust to a suitable level of light and thus would provide a decent photo. There is plenty of storage on the ZenPad 3S 10 so you can take a few photos and pick one of the bunch that turned out well.
The 8MP camera on the rear will provide you with photo taking capability which is what most people expect. If you want top of the class photo taking capabilities, this tablet cannot provide that. However it can provide very respectable photos and videos with a terrific camera app that can add some ease of use and functionality.
Asus offers a wide range of tweaks and adjustments thanks to their camera app. The Asus camera app is fantastic and very user friendly. It makes for an easy shooting experience with a variety of different preset modes which can help you get the best photo possible. There are some fun modes too which your kids will enjoy as mine did.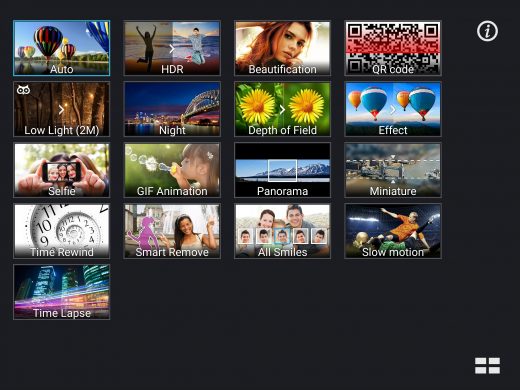 For the most part the different camera preset modes are self explanatory. There is a lot to delve into in terms of settings, tweaks and enhancements. If that is what you like, then this tablet will satisfy you with photo "tweakabilty".  Lots of options and settings to choose from.
In particular the "Depth of Field" pre set mode was interesting and I spent some time testing it out. When it works, it's fantastic. However it will most likely require a few tries before you get the results you like.
I've included a sample photo below. When you can blur out a background it does provide a level of professionalism to a photo and it's worth using. Lighting and object positioning are key and will either help or hinder the apps ability to create the effect you desire. A bit of patience along with some trial and error is required but I feel the end results are definitely worth it.
The cameras, both front and back, are capable of shooting 1080p video. There isn't a lot (if any) stabilization while shooting video but the results are quite good. Video is a bit more forgiving compared to photos so getting a high definition video from the ZenPad 3S 10 is quite useful.
I did notice that by default the camera is not set to the highest megapixel setting and the detail is not set to "fine". If you are okay with 4:3 photos, then you can increase the pixels of the photos to a maximum. The level of detail can be improved if you change the setting to "fine" as well.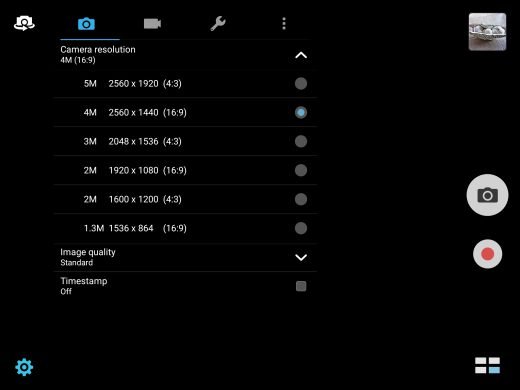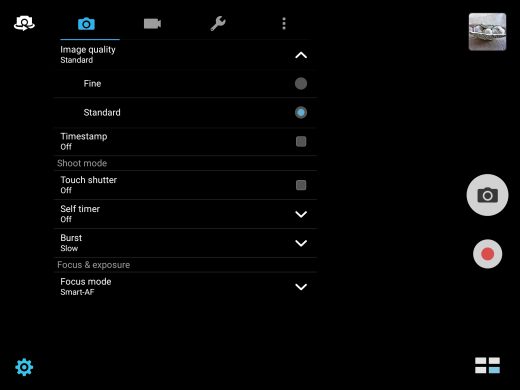 Gallery of Photos:
Conclusion
It's hard to come up with criticisms or issues that are big enough to be deal breakers. Front facing speakers, a better rear camera and longer battery life may be desirable but those are barely worth mentioning because of what Asus has delivered in the ZenPad 3S 10 (Z500M).
The fact is the battery life is going to get most everyone through a day and the side mounted speakers are no different than what you will find on the Samsung and Apple comparable tablets. Camera criticisms? For most people tablet cameras are an afterthought and the ZenPad 3S 10 does have fully capable rear and front cameras as it is.
One negative could be with the software side of things. Two issues for some people would be with pre installed apps and Android updates in the future.
Regarding the pre installed apps, I found most of the pre installed apps can be disabled or removed entirely. Yes this does require some manual effort on the user's part and that may be deemed a hassle by some. For me though, I'm fine with pre installed apps because of the $299 USD price tag. Some of the apps are excellent so keep that in mind also.
Regarding concerns about future Android updates, there is no official information from Asus about the Android 7.0 Nougat update. It's true that previous ZenPad tablets were slow to get the Android updates and some still have not got the Android 6.0 Marshmallow update. It's not clear yet how Asus is going to treat the ZenPad 3S 10 (Z500M) when it comes to new Android versions. However our sense is that with fewer tablet models, Asus will have better focus and thus updates should happen more quickly and with fewer issues when those updates do roll out.
Software aside, when you consider the flagship design and the premium tablet specs, the ZenPad 3S 10 (Z500M) is a great overall value. A terrific high resolution display, thin design, light weight, finger print sensor, Z Stylus support, 4GB of RAM, 64GB onboard storage with the option to expand via microSD card all add up to a value that's pretty much unbeatable.
Asus is aiming for the top of the Android tablet market with the ZenPad 3S 10 (Z500M) and in my view they are right there with the best. At $299 USD the ZenPad 3S 10 (Z500M) deserves to be considered the best Android tablet on the market for the 9.7-inch to 10-inch size range.
Shop Now For A ZenPad 3S 10:
Order Now – US or Canada
---
Z500M Specs:
9.7-inch display
2048 x 1536 resolution (4:3 aspect ratio)
MediaTek MT8176 processor (2.1 GHz) with two ARM Cortex-A72 cores, four ARM Cortex-A53 cores (1.7 GHz)
PowerVR GX6250 graphics (650 MHz)
Android 6.0 operating system
22Wh – 5,900 mAh battery
finger print sensor (located on front of tablet)
Qualcomm Quick Charge 3.0 support
USB-C connector
802.11ac wifi
Bluetooth 4.2
DTS Audio with support for 24-bit/192 kHz output through the headset jack
32GB/64GB storage
4GB RAM
microSD card slot (up to 128GB)
8MP rear camera and 5MP front camera
compatible with Asus Z Stylus
.23-inches thick – 5.8 mm thick
15 ounces weight – 430 grams
size – 240.5 x 163.7 x 5.8 mm
all metal
Z Stylus pen supported and compatible
product name: P027
ZenPad 3S 10 (Z500M) Price:
€ 379 EUR
NT$10,990 (32GB model)
$299 USD
Official Promotional Video: What about price and release date? So far, the release date is for August in Taiwan. The price in Taiwan will be $340. Other areas of the world like the US, Canada and Europe release date and prices are not yet know. Stay tuned, we are looking for any details that come up. What about the speakers? Unlike the original ZenPad line-up, the ZenPad 3S 10 has dual speaker mounted on the bottom of the tablet beside the micro-USB connection. So if you were hoping for front facing speakers, the Z500M will not make you happy. However, this location for speakers is what both Samsung and Apple have been doing with their flagship tablets. Perhaps there are technical reasons that bottom mounted speakers are required.
---
We are happy and grateful that Asus is continuing their Android tablet product line. There should be some upcoming exciting news about their new line, the ZenPad 3S 10 Series. Details are limited, but we have seen the new model, the Z500M pass through the FCC which means a month or more before we likely know more about what this line-up is all about. Looking for our ZenPad 3S 10 (Z500M) Review? Announcement is July 12, so our review will depend on retail availability following the unveiling by Asus. For now we will provide you with every detail, image and spec that we can find. The ZenPad 3S 10 (Z500M) is going to be unveiled officially by Asus in Taiwan on July 12. Asus have just put a post and image on their Asus Taiwan Facebook page. We have a high resolution image below to enjoy! A few details, although not official have been posted online. First, Asus is apparently going to market this as the world's thinnest tablet, at just 5.32mm thin. They also will market this as being the narrowest 4:3 tablet in the 9.7-inch size (taking a shot at Apple and Samsung). We also believe that the Z500M will come with a fast charge technology. If the ZenPad 3S 10 is with a MediaTek processor as we suspect it is, then the MediaTek Pump Express 3.0 should be on board. This is their latest and greatest solution. From 0 to 70% in just 20 minutes. From marketing materials, the advantage to their technology is that via USB-C, it can bypass charging circuitry and send power directly from the adapter to the battery. Sounds good, but we just aren't sure yet if this is indeed the quick charge technology in the Z500M. Cameras on the Z500M are 8MP rear and 5MP front. Processor is still unknown, but likely it is a MediaTek MT8176. Models:
Z500M-1J014A (Grey)
Z500M-1H010A (Silver)