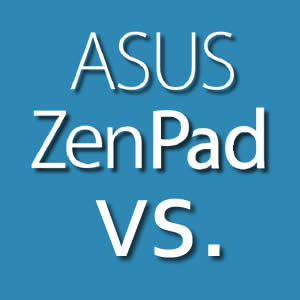 We are starting to roll out a number of vs. comparison articles for the first to market ZenPad S 8.0 (Z580C). We've already created a number of Z580CA comparison articles, but we think that the Z580C is going to be the first ZenPad that you can pre order and buy.
Because the Z580C is not quite at the same level as the Z580CA, we expect this comparison to be closer than the Galaxy S2 8.0 vs. ZenPad S 8.0 (Z580CA) comparison. A lot of times specs are quite similar between devices but it's the unique features that will ultimately make one a better choice over the other.
First off, the ZenPad S (Z580C) does not have Z Stylus support and does not have a USB Type C port. Those were two features that the Z580CA held over the Galaxy S2 8.0 tablet. To clear up any confusion we thought it was best to get this information cleared up at first.
So here we have 2 current tablets in a vs. battle. If we call the Asus Z580C their 1B tablet, can it possibly hold its own against the newest Samsung flagship? This should be juicy.
We should get this out of the way at the top. Samsung and the Galaxy Tab S2 8.0 is the thinnest tablet in the world. In addition, it's extremely light. This vs. comparison puts the Galaxy Tab S2 8.0 as a clear winner. Thinness wise, the Tab S2 is 5.4mm and the Asus Z580C is 6.9mm. That's quite a difference, although when cases and covers are added, it diminishes this spec. Weight wise, the ZenPad S Z580C is 317g and the Galaxy Tab S2 8.0 is 260g. Again, Samsung wins the weight vs. weight battle by a good margin.
Let's have a look at processors and RAM. The ZenPad S 8.0 (Z580C) has 2GB RAM and the Samsung S2 has 3GB RAM. That's another win for Samsung and their flagship S2 8.0 tablet. Processor comparison, there is a 1.33GHz Intel Atom Z3530 quad-core 64bit processor in the Asus ZenPad S, and the Samsung Tab S2 8.0 has 1.9GHz processor. From power and speed, the Galaxy S2 8.0 takes both categories.
So far, the Z380C is getting a bit of a beat down. However, let's just keep in mind that the Z380C is not the true comparison, but rather the Z380CA is the true ZenPad flagship. However, let's continue.
Battery appears to be one category where Asus can beat the Samsung S2. The ZenPad S 8.0 packs in a 4,000 mAh battery, and the Galaxy S2 has a 3,850 mAh battery. It's close, but spec wise Asus edges out Samsung. It's hard to say which tablet will get the better battery life at this early point.
Camera wise, we have pretty much a tie in terms of megapixels. The rear 8MP is a tie and the front for Samsung is 2.1MP but the ZenPad S has a 2MP. Close right? We need to see real life performance before claiming a victor in the best camera clash.
Are speakers important in mobile devices like tablets? I would say yes, certainly. So in this case, the ZenPad S 8.0 tablet beats out Samsung based on placement alone. The ZenPad has dual front facing stereo speakers but the Galaxy Tab S2 has side mounted speakers. Under what circumstances do you want a side speaker vs. one that is facing you and the screen? Give Asus the big win on speakers.
Both tablets feature microSD slots for cheap storage expansion. That's a win for consumers! Screen resolution, we have a tie and both of these tablets feature the 4:3 aspect ratio.
Price? Asus is certainly going to beat out Samsung, but it's just a question of by how much. It's going to come down to making a decision on build quality vs. price.