Previously we've seen a smaller size shipment listing of tablets headed to India. Today however, we're seeing a substantial quantity which certainly indicates retail sales. We're actually seeing three ZenPad tablets listed today, but it's the Z370CG that we're seeing in big numbers. The number is 720 units which is right up there with more normal import listings that we've seen with laptops and Zenfone models.
ZENPAD MODEL: Z370CG-1A031A (P01V) 90NP01V1-M00690
So to recap, the Z370CG is the ZenPad 7.0 and this particular model comes with 3G voice calling capabilities. One of the main selling points of the ZenPad 7.0 is the interchangeable design which lets you easily and quickly swap out the back cover for some interesting Asus accessory covers and cases. The Power Case and the Audio Cover add some real usability to your tablet.
So really, with all the listings we've spotted, this is the real first quantity that indicates something coming to retail. We've been hoping that seeing more frequent listings means a ZenPad launch in India is near. We believe it's certainly one step closer. As we've heard from many people living in India, when is the ZenPad S 8.0 coming? Great question! We're watching for any news but so far, nothing has been spotted.
The other two Asus tablets showing up today are not for retail.
ASZP10Z300C ASUS 16GB Z300C-A1 ZENPAD 10.1 WI-FI TABLET BLACK) FOR R&D PURPOSE & EVALUTION NOT FOR RETAIL SALE
ASZ380CXA2B ASUS 16GB ZENPAD Z380CX-A2 8.0 WI-FI TABLET BLACK WHITE FOR R&D PURPOSE & EVALUTION NOT FOR RETAIL SALE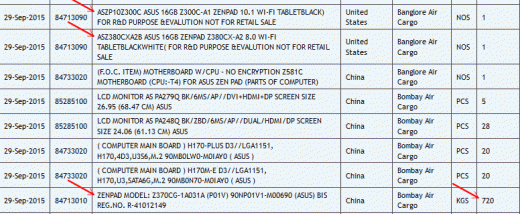 [source: Zauba.com]