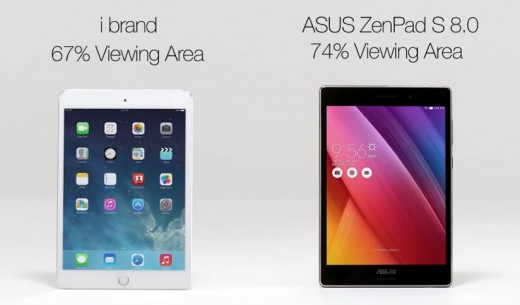 We have come up with our own articles for the iPad vs. ZenPad comparisons. In the recent past, Asus has been more than willing to compare their products to the i brand. Not sure what the i brand is? Let's get serious here folks! The Asus ZenBook is a real competitor to the Apple Air and in a lot of way Asus beats Apple. An ocassional dust up between brands isn't a bad thing. We say bring it on.
In this comparison, you will get a look at the iPad mini 3 vs. the ZenPad S 8.0 (Z580CA). In a way this is more practical comparison than just picking certain specs.
We thought we had covered most aspects of the comparisons, but it does appear that there are some other nuggets that the ZenPad S 8.0 has over an i brand tablet. The 1GB of RAM on i brand vs. the 4GB RAM on the ZenPad S 8.0 is accurate with a iPad mini 3, but the iPad mini 4 comes with 2GB of RAM. Still, it's a lop sided smack down by Asus regarding RAM.
The viewing area is interesting to consider. A 74% vs. 64% viewing area is a big deal in reality and real usage scenarios.
The Tru2Life and Tru2Life+ are certainly a legit benefit and are value added. The video didn't compare prices and they didn't compare speakers. Both big wins by Asus also. The big win by Asus though is the overall "more for less" aspect.