Model: Z580C-B1-BK
Software Version: WW_V4.3.1_20150924
Y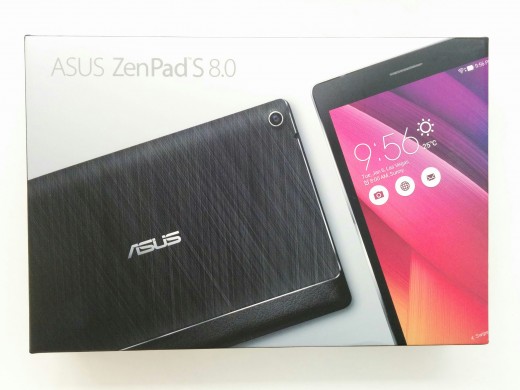 ou may not recall, but the $199 US priced ZenPad S 8.0 (Z580C) was the first ZenPad to hit retail. It was a Best Buy exclusive and the amazing display and specs created a lot of buzz around the technology sites and around the internet in general. Asus brought an Android tablet with top-end display and 32GB of storage for a price that most people thought impossible.
The ZenPad S (Z580C) should not be confused with the Z580CA model. The Z580CA is also a ZenPad S 8.0 tablet, but it's more expensive at $299 US. The Z580C comes with a few compromises which we will discuss in our review. Ultimately for consumers, it's a question whether the $199 model is a better option than the full packed Z580CA model.
It's worth mentioning that different countries may have different variations in terms of specs. This means you may have different storage available. However it's safe to say that this review should help you in deciding if the Z580C is worth buying regardless of slight differences in specs.
Quick Specs
Intel Atom Z3530 @ 1.33GHz
2048 x 1536 resolution (4:3 aspect ratio)
2K IPS display
8-inch size
Android 5.1 Lollipop
2GB RAM
32GB Storage
Cameras: 2MP front and 5MP rear
1 x microSD slot (128GB max)
2 ounces (317g)
30 x 8 x 0.30 inches (134.5 x 203.2 x 6.9 mm)
First Impressions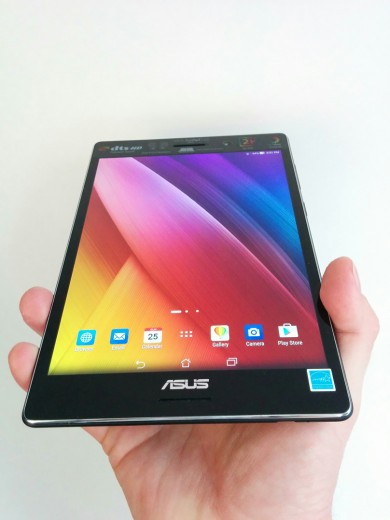 I've said this before, but it needs saying again. The product photos and images you've seen online really don't do the design justice. It's not until you unbox the Z580C and hold it in your hands that you can really appreciate how beautiful it looks and feels.
There are a number of designs and patterns on the rear of the tablet. The front of the ZenPad S 8.0 (Z580C) is quite typical, but Asus did manage to put some nice dual front facing speakers on this tablet. You might be surprised by just looking at the Z580C, but it's made of plastic and not metal.
On the rear side there is a chrome strip, a checkered pattern and also a strip of leather looking material which has a tacky feel to it. The tacky feel isn't so much like sticky, but it provides a nice holding material that will reduces the risk of drops. What I really liked is that that same tacky material runs from the back, all along the surrounding edges of the tablet. Because of this design the ZenPad S 8.0 is a joy to hold. Around the home where you have less risks of drop damage I recommend that you go without a case or cover. Don't deprive yourself!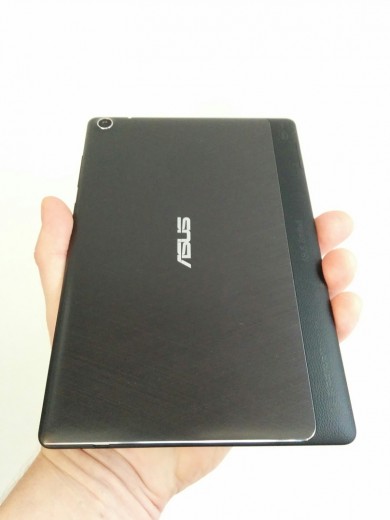 The aspect ratio is 4:3 which is something new for Asus tablets. This aspect ratio is the same as what you will find on the iPad mini and the Samsung Galaxy Tab S2 tablets. At this point there is such little bezel on these tablets that it's not that wide and can be held in one hand quite easily for an average sized person. With my medium sized hands, I found it very easy to wield in one hand. Holding the Z580C in landscape mode gives you a bit more freedom with your thumbs and helps reduce accidental presses on the screen.
Display
The ZenPad S 8.0 (Z580C) really has a remarkable display for the price of $199 US. Typically a 2048 x 1536, 2K IPS display has been reserved for expensive top-end flagship tablets. That is, until now. What Asus achieved is pretty much an unbeatable value in terms of getting a top-end display at a low price.
I don't want to get into charts and graphs when it comes to the display. If you like to see comparisons and charts you will find plenty of other reviews online showing how the Z580C ranks. I'm going to rely on what my eyes see. I have a fair bit of experience with a variety of similar devices so hopefully you will trust my assessment.
Tablets with a 2048 x 1536 resolution will still have some variance in terms of screen brightness (nits). I won't suggest the ZenPad S 8.0 (Z580C) is top of the class but it's certainly bright enough. In a sense I discount the maximum brightness charts and comparisons because when I see people using their mobile devices they often have their brightness at 50% or lower. I use my mobile devices at 100% full brightness and I can honestly say that I was very content with what the Z580C pushed out in terms of brightness.
Asus has an app called Splendid which gives you quite a lot of control over the screen settings. I didn't find the need to tweak, but you can adjust as you feel fit. There are some presets like Balance, Bluelight Filter and Vivid. You can also adjust via a slider, the color temperature, hue and saturation. It's worth mentioning these presets because they are actually quite handy. Bluelight Filter mode is a reading mode and Asus suggests it turns your tablet into "an instant e-Reader". The Vivid setting is recommended for viewing photos, videos and gaming.
Performance
The ZenPad S 8.0 (Z580C) features a quad-core Intel Atom Z3530 processor (1.33GHz) along with 2GB of RAM. Although these specs aren't up to the same level as the ZenPad S 8.0 (Z580CA) they are going to be more than sufficient for most people. The processor and RAM of the Asus Z580C are very respectable when you consider the price of $199 US also.
I pushed the Z580C as best I could with 1080p video and some of the most demanding games on the market. Across the board everything performed as expected and I didn't see stuttering or sluggish performance. It's entirely possible that in the near future there will be power hungry apps or games that will require more horsepower. It's safe to say for the foreseeable future the Z580C should perform just fine for what you need.
Battery Life
With a super thin and light tablet with a high resolution screen it's naturally going to put a strain on battery life. If you are like me and go full throttle with 100% brightness, expectations need to be realistic. I just think with batteries on mobile devices, plugging in and charging is just a reality. What you don't want is battery life that has you stressing out half way through your day.
Before delving too much into specifics or tests of the Z580C battery life, knowing your usage is pretty important. If I'm travelling all the time, I bring a portable external battery pack. Any shortcomings with battery life become unimportant to me because I have a portable power source. If I'm going out for a day with my tablet and will be watching some video and playing some games, then it's best to consider whether the Z580C can manage a full day of fairly heavy usage like videos and gaming.
I ran some battery tests by running various visually and processor demanding tasks, one time at 100% brightness and one time at 50% brightness. I decided on 50% brightness for testing purposes because in my opinion if you need to squeeze every last minute out of the battery, this level will let you comfortably view a movie or content on the tablet. You could feasibly go as low as 25-30% provided you are indoors and not in an environment with bright sunlight.
Because I ran these same battery tests on the more expensive ZenPad S 8.0 model (Z580CA), I have some comparable data. What I can say is that the Z580C did manage slightly better battery life than the Z580CA. More horsepower under the hood (Z580CA) requires more battery and that is a logical conclusion in this instance.
I first tested a 2 hour long movie with a 1080p resolution running from local storage. The Z580C drained the battery by around 20% when running full 100% brightness in two hours.  I found that under the same testing conditions, the Z580CA would drain the battery by around 24-25% over the same two hour period.
In my 30 minute gaming test, the Z580C drained about 10% battery life with 100% full brightness and about 6% with 50% brightness. Comparison wise, the ZenPad S 8.0 (Z580CA) in the same test drained the battery by 12% at 100% brightness and by 8% at 50% brightness.
I would suggest that I'm an average user which means that a tablet can sit a day sometime before I pick it up. Turning off a tablet between uses isn't ideal and most of us rely on the sleep or standby mode. If you like to let your tablet sit in sleep mode, you don't want the worry of finding a low battery the next time you go to use it.
I found that the ZenPad S 8.0 (Z580C) was able to provide excellent standby time. Overnight for example it would drain about 2% in an eight hour period. If using the battery saver mode, 1% was typical. There are some variables like if you left an app or game running in the background or if you're in a weak wifi range. Just keep in mind that your mileage may vary. I rely a lot on standy and sleep mode and the Z580C delivered good results in terms of battery conservation.
Audio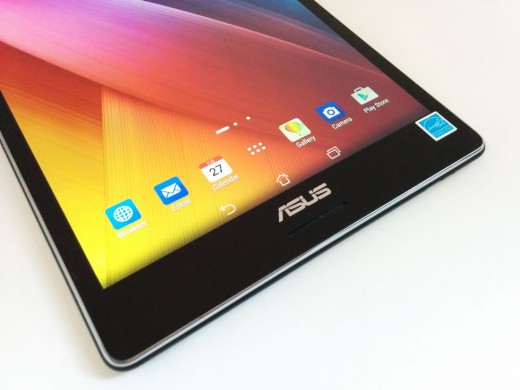 The ZenPad S 8.0 (Z580C) has dual, front facing stereo speakers featuring DTS HD Premium Sound. It's odd to think that the flagship tablets on the market, namely the iPad and Samsung Galaxy Tab S2, do not have front facing speakers. I'll personally take front facing over side facing speakers under pretty much any circumstance. Speakers from the beginning of time we designed to point at ears, not away from them.
The Z580C speakers provide a pleasant, wide sounding, stereo audio experience. Deep bass sounds are something that these speakers cannot provide however. I don't see this as a negative, but rather I see it as expected. The Z580C is thin and light and packing in speaker hardware must be a tricky endeavour. Thus I'm cutting Asus slack on this one.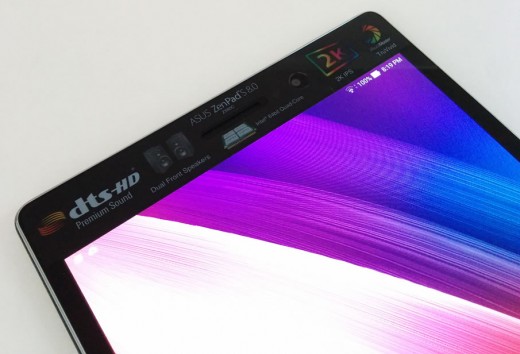 The stereo sound is rich and wide and truly enhances a movie or game experience. Volume wise, the speakers are not what I would consider to be loud especially when coming up against a noisy environment. If you know where you're heading with your tablet then you can plan accordingly. For example, bring  a portable speaker or headphones along with you. Another alternative is to use media players like Kodi which have volume amplification. I did a volume test on the Z580C with the Kodi volume amplification and the results were absolutely fantastic. A 10% to 20% boost was more than enough to pump up the volume.
The Asus ZenPad S 8.0 (Z580C) comes with an Audio Wizard which provides some presets, as well as an EQ. I should point out that the Audio Wizard settings have a minimal effect when using the speakers on the Z580C but when you plug-in headphones or a portable speaker, the setting have a dramatic effect. Adding more bass is very noticeable when you are using headphones but isn't very noticeable with the speakers. If you like to fiddle with EQ settings then certainly make sure you have headphones or an external speaker.
Software and Asus ZenUI
Android is the operating system, but ZenUI is the Asus layer that runs atop. If I were to summarize what ZenUI is, I would suggest that it's a more user friendly experience. There is a lot to learn and you really need to spend weeks on the tablet to fully appreciate ZenUI. With more time I can provide a deeper review of ZenUI but for now I can say that it's a positive and not a negative. Some people might be hassled with some preinstalled apps (bloatware) but I'm of the mind that paying $199 US for a tablet like this is going to have some compromises. The extra apps are not a big deal to me.
During my review period I was greeted with a few software updates. It's safe to say that with each update the Z580C is improving with various fixes and tweaks. You should take some comfort in knowing that Asus is continuing to resolve issues that come up and are looking to improve performance.
One such update addressed the bloatware complaints, thus proving that Asus listens to their customers and takes action. In the WW_V4.2.0.0 software update, the following note was listed: Allow user to disable most of the preloaded apps. So if you are reading other ZenPad S 8.0 reviews, do keep in mind that complaints about bloatware may be from an earlier version of the software.
If I were to summarize ZenUI and what it means to the experience, I would say it provides a more user friendly layer to Android. The Asus apps that come preinstalled for the most part make the settings obvious and you aren't left guessing what an icon might mean. ZenUI helps take some of the guess work out of Android which is a good thing for most users. It will take some time to learn all the tricks and nuances of ZenUI but overall it's a positive experience.
Cameras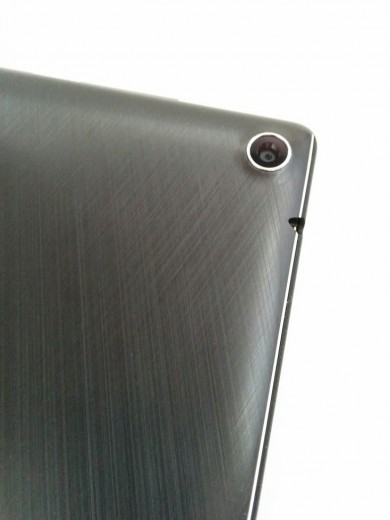 I'm sure you've been in public places and seen people using tablets for snapping photos. Is this you? The cameras on the Z580C are not the best in comparison to the other offerings in the ZenPad line-up. You get a 2MP front facing camera and a 5MP rear facing camera. I've used the 8MP rear camera on the Z580CA so I have an ability to compare these cameras.
What I liked most about the camera feature in the ZenPad S 8.0 is the camera app. It's very easy to choose an interesting preset that does the tweaking to the photo before you snap it. In particular I liked the "Depth of Field" setting which is ideal for close-ups. It focuses on the subject in the front and blurs the background. The "GIF Animation" is also handy for easy GIF creations that you can post online. In total there are 15 different presets and most are self explanatory from the settings page. In a way I wish the camera could maximize the potential found in the versatile app and presets.
In most every instance, indoor shots were on the grainy side. If you have a bright indoor environment your results should be better. In low light situations it's a challenge to get focus and to hold the tablet still enough to avoid blurry photos. On the positive side, outdoor photos were much better. With enough lighting, the camera can capture fairly crisp photos and the grainy issues are far less noticeable.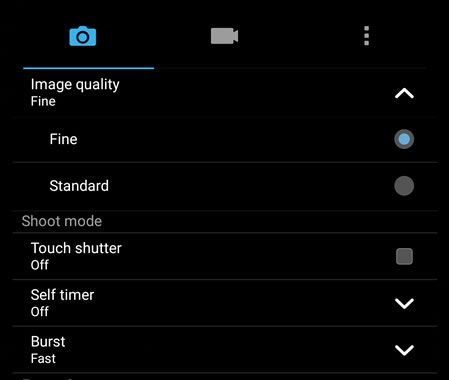 For whatever reason, out of the box the Z580C camera settings are not "maxed" out in terms of photo detail or the size. If you're like me, taking the best possible photo is what I want. Thus, I set the photo detail from "Standard" to "Fine" and I also increased the photo size to the largest. Also in video, the default setting is for "Performance" instead of "Quality". If you buy this tablet, it may be worth tweaking these settings right out of the box.
What I will say is that I struggled to snap a photo with the "Depth of Field" preset with the Z580C camera. This preset was one of my favorites when using the Z580CA and it worked well with that 8MP camera. The inability to properly grab a good "Depth of Field" photo must be attributable to the less robust 5MP camera in the Z580C combined with an indoor environment. In an outdoor environment with lots of light, I could get some decent results with the preset.
The rear camera on the Z580C will suffice when in a pinch, but ultimately it's not going to fetch terrific results. I will say that a portable camera such as this is more useful in practical terms such as documenting or keeping a paper note in a digital form. I often use my smartphone camera for bookkeeping purposes in which case the photo quality is not that important. For kids, these types of cameras and presets are a good enough them busy for a while. Kids like making movies and taking photos and quality isn't something they will care much about. With the Z580C cameras, keep your expectations realistic and you shouldn't have too many complaints.
I've taken some photos which you can see below.
ZenPad S 8.0 (Z580C) vs. ZenPad S 8.0 (Z580CA)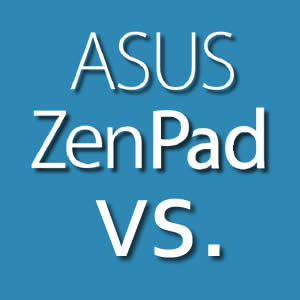 With the Z580C being priced at $199 US and the Z580CA being priced at $299 US, this is a tricky comparison. These two tablets are exactly the same in terms of their screen resolution and build quality, but spec wise there are some big differences. I will put the key differences into perspective and hopefully that will help you decide which model is best for you. Because this is a Z580C review, I'm going to emphasize the positives that the $199 has over the $299 model.
Based on my experience with both of these tablets, the Z580C less speedy processor and less RAM will not be noticeable for a majority of average users. If you are a power user then having the beefy specs may be essential. Getting 2GB of RAM and the newest Intel Atom processor at a clock speed of 1.33GHz in the Z580C is going to power through most applications and at the price point it's about as good as you're going to get. You can pay extra for the Z580CA which provides 4GB of RAM and a 2.33GHz processor.
The cameras on the Z580CA have more megapixels and are better. However, you need to decide whether you will be inclined to snap photos with your tablet that you care about. If you're out and about, do you carry a smartphone? The camera specs on modern smartphones do a good enough job and because they are more portable it would be the more ideal camera. It really depends if you have a smartphone or if you are planning to get one in the near future. I don't put a lot of extra value in tablet cameras to be honest.
Not having 802.11ac wifi is not that major of a negative for the Z580C. The Z580CA does have the new wifi standard but the question is whether that's something you are going to be able to fully utilize. In most everyone's home network, I would bet at best people are using an 802.11n wifi router/modem. If you have upgraded to 802.11ac wifi equipment, then it's more of a consideration. If you are using your tablet in an environment which has the newest "ac" then sure, give this some added value. If you aren't planning on updating your home wifi equipment then it's not a big value added feature.
The Z580C uses a microUSB port for charging and the Z580CA uses the USB Type-C connector. The advantages of the Type-C are not enough to say that it's a big added value. It's easier for connecting the charger, but if you are familiar with the microUSB charger orientation then it's only a minor upgrade. One negative about USB Type-C is that you likely will only have the one cable. I personally have found myself out and about with my portable battery pack but no USB Type-C cable to plug in. Most people have a few extra microUSB cables laying around so it's less likely that you will be out of luck when in a pinch.
The Z Stylus is only compatible with the Z580CA model ZenPad S 8.0. This may be one feature which could sway you into paying $299 vs. $199. I am working on a full review of the Z Stylus but certainly the option of using a pen for notes and drawing has its advantages. It's also costs $29 which does add cost on top of the $299 US price for the tablet.
The Tru2Life+ technology (smoothes out video) is interesting and is exclusive to the Z580CA. It is something that can be quite dramatic depending if you choose to use the technology on the high setting. If you have it, it's certainly a nice feature to have, but it's a question of how much added value it will be to you. In another way, if you don't know what you're missing, then you won't feel deprived of Tru2Life+ in the ZenPad S 8.0 (Z580C).
Read our full Z580CA Review Here
Conclusion and Summary
The ZenPad S 8.0 (Z580C) achieves what it was designed for. With a low price of just $199 for a 2048 x 1536, 2K IPS display, is has become a real trend setter. In fact the price was cheap enough to create major buzz amongst the technology websites when the Z580C first came to the US market as a Best Buy exclusive in late July. Still to this date it's one of the best Android tablet values on the market.
With the Z580C you're largely getting a high resolution display and dual front speakers. Those are the two main selling points, and in terms of tablet usage, they are both very important. The speakers aren't booming loud, but they offer an excellent stereo sound with nice fidelity. The screen isn't the brightest display on the market, but it's more than sufficient.
Looking at the Z580C hardware and other specifications, you could argue that the overall performance is average. I found that the Intel Atom Z3530 @ 1.33 GHz and 2 GB of RAM was adequate and I didn't experience sluggish performance or issues. It won't be as snappy as a more expensive tablet like the ZenPad S 8.0 (Z580CA), but for the cost it's going to be capable enough for most people. The Z580C battery life is not excellent but we did find it slightly better than the more expensive Z580CA model. It's built of plastic and will be prone to scratches more than a metal design, but most people cover tablets with cases or covers which will make it a non issue.
Think about the Z580C against other similarly priced tablets. You can shop around for other 8-inch tablets with the same resolution but you will see that the competition is unable to offer the same value. You might find something with a slightly faster processor but it will likely have a lower resolution screen or minimal storage. You might find a tablet with longer battery life but its likely going to have a higher price and less onboard storage. If you want long battery life and the same high resolution display, you're going to pay big money and it likely won't be an Android tablet.
When you really take a look at what else is out there on the market, it's hard to find the same value that the ZenPad S 8.0 (Z580C) offers. People who bought the tablet agree. Looking at various customer reviews, the Z580C scores at least 4.2 out of 5 stars from people who have bought it. Asus managed a superior price for a flagship quality, high resolution tablet that is a pleasure to hold and use.
International Shopping Link: