As expected, Asus has rolled out Android 7.0 Nougat to the LTE model of the ZenPad 3S 10 (Z500KL). Now if you are one of the many non LTE owners, I would expect your update in days, not weeks. That's a guess on my part, but the ZenPad 3S 10 series is a flagship device and the Nougat update is overdue.
So for this update, here are a few of the details:
Date: June 6, 2017 / June 7, 2017
Size: 1.5GB / 1.52GB
Version:
JP_V5.3.7 (For JP Version Only)
WW_V5.3.6 (For WW Version Only)
Release Notes:
1. Software update to Android 7.0 Nougat, The preloaded Holo Spiral, Bubbles, Black Hole, and Phase Beam live wallpapers are not compatible with Android N and will be removed after system update.
2. Remove redundant app shortcuts "Audio Wizard"、"System update" from all apps menu. How to turn on Audio Wizard? (System settings > Sound & Vibration > Audio Wizard) How to check system update? (System settings > System Update).
3. Remove "PC Suite" (CD ROM) and Share Link App.
4. Remove "Tap and hold to show menu" from Settings > ASUS customized settings > Touch key setting. Add "Tap and hold to activate Multi-window" in Touch key setting.
5. For user who use Easy mode, a Launcher app menu will show on the screen after upgrading from Android M to Android N. Please select your default launcher ag.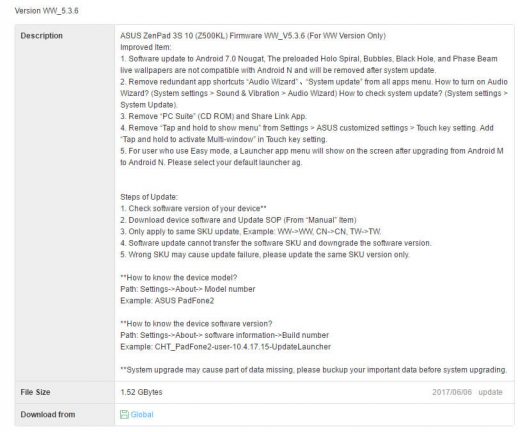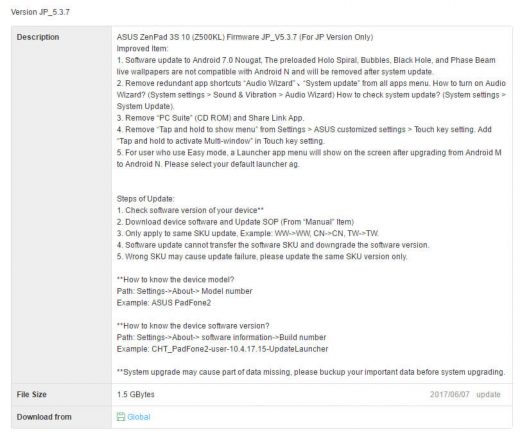 [source: Asus.com /  via: Softpedia.com]