Asus ZenPad S 8.0 (Z580CA) Review (Rev. 1)
Z580CA-C1-BK
Software Version: WW_V4.3.1
Introduction
Gone are the Asus MeMO Pad and Transformer Pad tablets. As part of a strategy shift, Asus decided to rebrand their entire Android tablet line-up to simply ZenPad.

Asus has a variety of ZenPad tablets on the market, including two 7-inch models (ZenPad C 7.0 and ZenPad 7.0), two 8-inch models (ZenPad 8.0 and ZenPad S 8.0) and one 10-inch model (ZenPad 10). All are very reasonably priced with the ZenPad S 8.0 being the more premium top-end offering compared to the rest of the line-up.
Asus has been renowned for creating quality products and selling them at very affordable prices. Even though the ZenPad S 8.0 (Z580CA) is the flagship or "hero" Android tablet from Asus, they have still managed a very reasonable price point. In fact, when you look at competing flagship tablets in the 8-inch category from Samsung and Apple, Asus delivers similar specs and hardware at a much lower price.
There are two different ZenPad S 8.0 versions, the Z580C at $199 US and the Z580CA at $299 US. There are a number of key differences between the ZenPad S 8.0 models and to help clear up the confusion, we have a basic comparison article here. In addition to those differences, you will find different variations of the Z580CA from country to country. So depending on where you live, the ZenPad S 8.0 (Z580CA) model may come with a different (slower) processor and or less RAM.
For the sake of clarity I am reviewing the North American version. Even with the slight Z580CA variations, we hope this review will help you decide if this tablet is worth buying and whether it will fit your needs.
Quick Specs
Our review is for the ZenPad S 8.0 (Z580CA) with 64GB storage and 4GB RAM version. If you're looking at retail listings, it's the Z580CA-C1-BK (BK = black color) model.
Processor: Intel Atom Z3580 @ 2.3GHz
Operating System: Android 5.0 with ZenUI
RAM: 4GB
Display: 2048 x 1536
Size: 5.30 x 8.00 x 0.26 inches
Weight: 11.2 ounces
Audio: dual front facing speakers with DTS HD premium sound
Ports: microSD (up to 128GB SDXC), USB Type-C, 2-in-1 audio jack
Wifi: 802.11 a/b/g/n/ac
Cameras: 5MP front, 8MP rear
Misc: Z Stylus support, Tru2Life+
First Impressions – Build Quality
Thin and light. That will likely be your first impression when you first unbox the ZenPad S 8.0 Z580CA tablet. For the sake of comparison, I put my Nexus 5 in one hand and the ZenPad in the other hand. The result? It was very hard to notice any weight difference. Trust me when I say I have sensitive hands when it comes to judging weight. I didn't get out a scale and I didn't reference any spec sheets on either device. I just know the Z580CA is light and in my hand, and for lack of a better description, it felt lovely.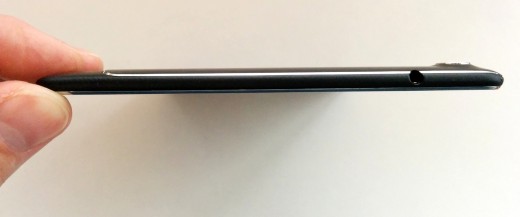 I'll try not to exaggerate, but simply put, photos of the ZenPad S 8.0 that you see on the internet don't do it justice. Sure, the ZenPad S 8.0 is made of plastic but you wouldn't know it by just looking at it. The rear of the tablet has a few different things going on and it does create a unique look and feel. The leather looking strip running along the back side and around the entire edge of the tablet has a slightly tacky or grippy feel to it, which makes handling the Z580CA more pleasant. The strip of chrome running through the back of the tablet is visually appealing.

Truth be told, it's a wonderful looking and handling tablet that is begging you not to cover it up with a case or cover. Of course everyone has to make their own choice about cases or covers and consider the risks of damage from drops. I decided to use the Z580CA without a case or cover during the review process, but the risk of damage from a drop around my home is minimal.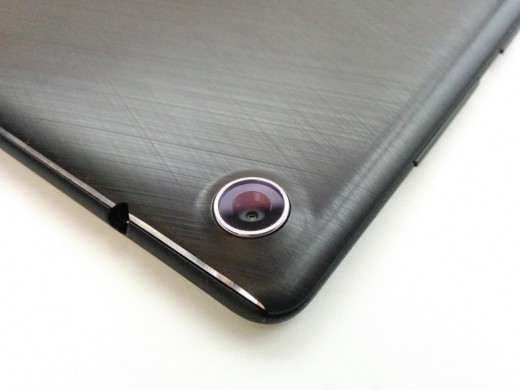 Even though I was being careful, somewhere along the review process a few scuffs did appear on the back of the tablet. The marks were nothing substantial and you would really have to make an effort to notice them. Making the Z580CA plastic is a double edge sword. It allows for a cheaper price but it loses some durability that more expensive build materials like aluminum provide. That said, most people will use a cover or case so scratches and scuffs will likely be a non issue for most owners.
Along the side of the tablet are the volume rocker and power button. but it's not sticking out to the point where pressing it gives a real click or response under the finger. I'm not entirely certain if the feel of the power button is by design to reduce accidental clicks.
Using the ZenPad S 8.0 (Z580CA)
You may find on your first boot up that the power button is a bit tricky. For lack of a better description, the power button response felt a bit flat. It turns out that the rounded edge of the ZenPad S 8.0 means you simply need to press the button from the top rather than from the side or from the bottom of the tablet. It's hard to explain but the fact is the button is fine as long as you're pressing it from the right angle.
With that out of the way, the first time boot up is typical with a barrage of questions and choices which is standard for any new Android device. It's worth mentioning that you get 100GB of free Google Drive online storage for 2 years and you will be asked about activating that perk during the initial setup of the tablet.
I did like the fact that after my first boot up and signing into my wifi, I was greeted with a software update notification. I will explain in more details below, but during the time I was reviewing the ZenPad S 8.0 I received two more software updates. It's good to know Asus is tweaking, fixing and improving the tablet. If you're going to read other reviews it might be worth noting when the review was dated and if they actually list the software version that was running at the time of the review. Issues that certain reviews bring up may no longer be issues.
Display
With a high resolution 2048 x 1536, 4:3 aspect ratio display, it's going to be hard to nitpick what the ZenPad Z580CA offers. If you look at more detailed analysis, you might find that the Z580CA is not top of the class in terms of brightness or accuracy, but for the price, you really can't beat the display.
There are other reviews on the internet that get into the more technical details of the display. Charts are one thing, but how about analyzing a display with your own two eyes? That's what I've done. Text is clean, crisp and easy to read. Graphics in games were sharp and detailed. Everything about the display is what you would hope for in a device that sports a 2048 x 1536 resolution.
If you feel the need to tweak the display there is an Asus app "Splendid". This app allows you to adjust the display in a number of ways including color temperature, hue, saturation, and some presets like Balance, Bluelight Filter, and Vivid. The flexibility is in the hands of the user when it comes to visuals, so if you don't like what you see, go ahead and tweak away.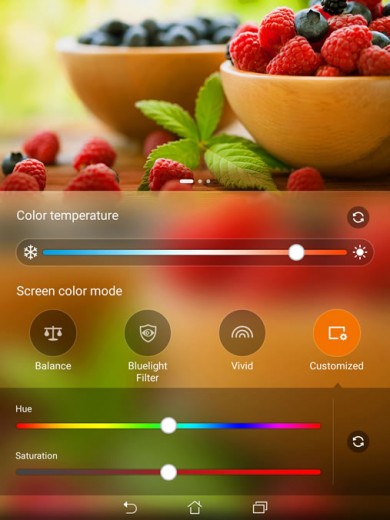 I tested the ZenPad S 8.0 in a sunny outdoor environment and the results were pretty much as expected. The screen at full brightness was sufficient to use the tablet camera and to view websites or apps without too much difficulty. I also compared the Z580CA against a few other tablets including the Asus MeMO Pad ME302C and the iPad Air in the same outdoor conditions. The iPad Air was only slightly better but compared to the Asus MeMO Pad ME302C, the Z580CA was much better.
Even if you look at the most expensive tablets on the market, it's not realistic to expect a great viewing experience in sunny outdoor conditions. Some tablets may be slightly brighter than the Z580CA, but they are all going to be reflective. If you really need a tablet that performs well in bright sunlight you should consider an ereader with e-ink technology instead.
Audio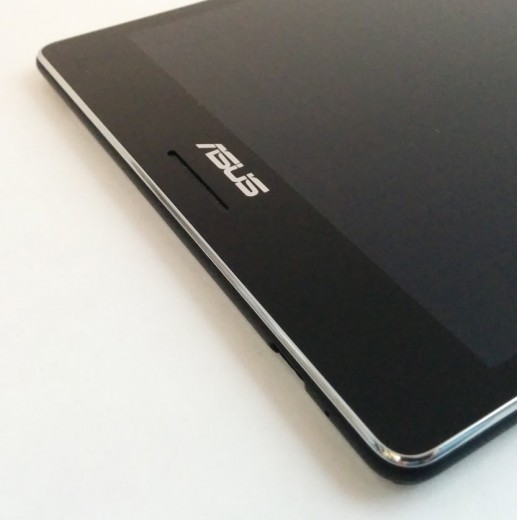 With the existing reviews out there of the ZenPad S 8.0 (Z580CA) I was excited to check out the speakers. The ZenPad S 8.0 features dual, front facing speaker with DTS-HD Premium Sound. If you shop around you will find that front facing speakers on a tablet are not common and this is something Asus has over most of the competition.
There are a couple preinstalled songs, which I played using default settings. As I suspected, the speakers generated a pleasant stereo sound. There was noticeable separation from left and right which gave a full and wide stereo sound. If you're hoping for a bass filled audio experience, that isn't what the ZenPad S 8.0 is able to provide. Given the size and weight of the tablet a thick sounding bass just isn't realistic.
Volume levels are sufficient but the Z580CA will struggle to overpower loud background noise. So if you're heading into a noisy environment, I would suggest something like a portable speaker or headphones. To verify the volume output, I tested the ZenPad S 8.0 with a portable Monster speaker and the sound boomed loudly and clearly.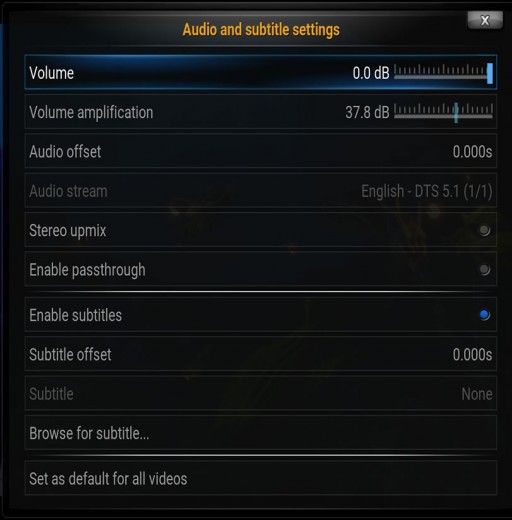 Another alternative if you're playing media from your tablet and need extra volume is using a media player like Kodi that has a "volume amplification" setting in audio. I ran a few tests using Kodi to see if the speakers on the Z580CA could handle the increased volume and it was terrific. Even going with 25-50% volume amplification made a dramatic increase in overall volume. If you buy this tablet I suggest you check various media players that have similar volume amplification.
Asus has an audio wizard from which you can choose from a few presets or you can fiddle with the EQ to add bass or treble. With some testing I found the presets in the Audio Wizard were the best option for tweaking audio. When using the speakers on the tablet, I didn't find the sliders to do anything extraordinary and overall the effect was quite minimal. However, when you plug in an external speaker, headphones or earbuds, these Audio Wizard settings are very noticeable. When you tweak the EQ or add bass/treble the adjustments are quite profound. Asus puts the control in the hands of the user and you can certainly overpower a portable speaker with too much bass.
I will say this about the ZenPad S 8.0 audio. You need to be realistic in terms of expectations from speakers on a device that is so light and thin. The ZenPad S 8.0 dual front facing speakers delivery clear, crisp stereo sound. If you are expecting a thin and light tablet to provide booming bass it's asking too much. Sure my HP Touchpad has some of the best sounding speakers but it's a super thick and super heavy tablet. There has to be some compromise and realistic expectations.
Tru2Life+
Tru2Life+ is an exclusive feature only found in the Z580CA tablet. Don't be confused by Tru2Life technology which is found in all ZenPad models which enhances photos and pictures. The "+" in Tru2Life+ is all about video enhancement. Asus is marketing this technology as "Clear, Blur-Free Motion".
It's hard to explain something visual like Tru2Life+ with just words but let me try using a video game perspective. Older generation games ran at lower frames per second (FPS) rate. So let's say you play a game from yesteryear, it might run at 30 FPS. Now fast forward to today's games that run at 60 FPS. Comparing the 30 FPS game with a 60 FPS game side-by-side will show a very dramatic difference in terms of smoothness. This is how I would view the Tru2Life+ technology.
Asus has put the control of this technology into the hands of the user via the settings menu. You can set video enhancement to high, medium, low or disabled. Because the settings are easy to switch, you can play a video with Tru2Life+ off and then instantly swap windows and turn on Tru2Life+ to view the video with the enhancement. It's only then you will get a feel for the difference and appreciation for how smooth the video is playing. You will notice that the difference is profound. It really changes the look and feel of the video, especially if you go with the "high" setting.
Because this is a new technology and isn't built into many devices, there may be a bit of trial and error. There are no "for best results" articles or tips anywhere online that might explain how framerate or resolution affect Tru2Life+ and which setting (high, med, or low) will provide the best results. In a way it would be nice to see some official documentation or guidance on the recommended settings. For now you can enjoy it for what it is and with a bit of A/B testing, you can find what works best.
I tested Tru2Life+ on a variety of videos of varying quality including animation, sports, and action. I was with a friend so I had a second pair of eyes watching and commenting. When doing most every comparison, the most common words used to describe Tru2Life+ enhancement was "it's better". Going from a video with Tru2Life+ set to high and then immediately viewing that same video with Tru2Life+ disabled clearly showed how well the technology works.
In my short experience using Tru2Life+ technology, I can say it changes how you look at a video. When set to high, it's like watching a movie again for the first time. The increased smoothness makes it a new viewing experience.
Battery Life
There are many great technical reviews on the internet that provide Z580CA battery analysis, graphs and comparisons. In this review, I'm going to give you a different, practical look at the ZenPad S 8.0 (Z580CA) battery life. I'm going to break the mold from traditional reviews that run video loop tests to score battery performance. In reality, those reviews aren't going to help you in understanding whether the ZenPad Z580CA battery life is excellent, good, poor or otherwise under normal usage conditions.
Before getting into battery life details, let me just say that I'm a user that prefers 100% display brightness. The reason I need to mention this is because during my review period with the ZenPad S 8.0 Z580CA I had brightness set to 100% full, with no auto adjust. For the basis of comparison, I needed to review the Z580CA under the same conditions that I am familiar with.
Most of my daily use of the tablet was for tasks such as web surfing, watching YouTube videos and playing games. With my light to medium usage of the Z580CA I never found myself in a situation away from home having to stress out about running out of battery. If you are an average user, then you should be more than content with the Z580CA battery life.
In my first battery test, I played a 30 minute 1080p resolution video from local (hard drive) storage. I played the video once at 100% full brightness (no auto adjust) and then once at 50% brightness (no auto adjust). There was a 7% drop with the 100% brightness setting and a 5% drop with the 50% brightness setting after 30 minutes. That means a two hour movie will drain the battery by about 20% to 28%. In real terms, this means you should be able to watch at least 3 full-length, two hour videos before draining the battery. If you think turning off Tru2Life+ might have an effect on battery drain, I found no results that supported that theory. If you want to set it to high, you can do it without any battery life concerns.
I tested a variety of games on the Z580CA from graphically and CPU intensive to light and casual. For each game, I ran one test at 100% full brightness and a second test at 50% brightness. Playing Clash of Clans for 30 minutes with full brightness, the battery dropped 12%. The Z580CA fared better in the same test with 50% brightness with the battery dropping 8% in 30 minutes. In other less graphically and CPU intensive games, battery life drained anywhere from 8-10% for 30 minutes.
So if you play a graphically intense game for one hour, you are likely looking at a 25% battery hit with 100% brightness and about 16% battery hit with 50% brightness. It is worth noting that you could easily play games comfortably at 25% brightness which would result in even better results.
Standby is an important and often overlooked consideration for battery life. If you're like me, you can sometimes go hours or even days between picking up your tablet. You don't really want to have to sweat whether you left the Z580CA in standby more rather than turning it off. What's more important is that you don't want to be overcharging the ZenPad S 8.0 by leaving it charging overnight or longer. You will really wear down your battery if you keep the tablet charging all the time. This is a big reason why a good, low battery usage standby is important.
I ran numerous standby tests over a number of weeks during the review period. In each battery test, I left the Z580CA overnight, starting at 100%. Without any apps running in the background, without using power saver mode, and with wifi on, in an 8-hour period, the battery would drain by around 2%. With the same conditions and using the "Ultra-saving mode", the battery would drain 1% in an eight hour period. As a comparison, my Nexus 5 with regular standby (no power saving enabled) overnight will see a 3% to 4% battery drain.
So if your usage involves a lot of standby time, the ZenPad S 8.0 battery is going to drop to 50% after around 15 days of standby (approximately 3% battery loss per day) if you enable to power saving mode and don't have any apps running in the background. In a regular standby situation where you don't have apps running in the background and are not using battery saving mode, you should expect around 15 or 16 days (approximately 6% battery loss per day) before the battery drains completely.
There are a lot of variables that can affect standby battery drain including apps you've installed and whether you have apps running in the background. I was more than satisfied with the standby performance of the ZenPad S 8.0 (Z580CA). When I left the tablet on my desk for a few days I was very content with the battery levels when bringing it out of standby mode. It's safe to say that you won't have to worry about those times when you left that tablet on (standby mode) and return to it a day or two later.
Ultimately the ZenPad S 8.0 (Z580CA) should provide most people more than enough battery to get through a day. Most of my usage was done in a typical, average user manner. I found the battery life of the Z580CA was sufficient for my needs in any given day.
Everyone uses a tablet differently and in different scenarios so it's hard to make a blanket statement about the battery life. Ask yourself this. How often do you sit for 6+ straight hours using a tablet? What is your typical usage going to be? Are you playing games or watching movies on the road without access to a power outlet?
If you need to get the most battery life possible, set the brightness to 25%.  Alternatively, for $15 to $30 you can buy an external battery pack. I own a battery pack and it's one of the most useful accessories I've bought. I don't have to sweat the times when I'm away from a wall to charge any of my mobile devices. Having that external battery also means that I don't need to compromise on my preference and I can run the tablet at 100% full brightness without worry.
If you need to charge this tablet more frequently than an iPad Air 2 does it really matter? I own a variety of tablets and it's the same routine regardless of whether one tablet gets 8 hours on a charge or if one gets 12 hours on a charge. Remembering to check battery levels and charging a mobile device is just the reality. The Z580CA may not beat some of the competition in terms of battery life, but I say take the cost savings and be happy.
USB Type-C Port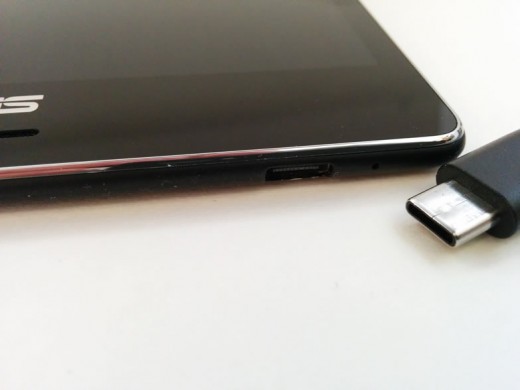 The USB Type-C port is something that the other ZenPad S 8.0 model (Z580C) does not have. Most newly released devices like smartphones, laptops and tablets are sporting this new USB Type-C connection. The Z580CA has a Type C USB Gen 1 (USB 3.1) port so don't mistake it for the Gen 2 Type-C USB ports that you may be reading about. Gen 1 does not offer the same functionality that Gen 2 ports do. It's a confusing situation where USB Type C does not equal the same functionality. We wrote an article here if you would like to know what this all means and how USB Type-C Gen 1 is different than Type-C Gen 2.
The real advantage to this USB Type-C port is that it makes charging a bit less complicated. You don't need to worry about top side or bottom side because either way works. This type of port is supposed to be more durable and longer lasting than microUSB, although I wouldn't say that the Z580CA port feels particularly rugged.
WiFi
The Z580CA offers something the other ZenPad tablets do not offer which is the new 802.11ac wifi standard. The "ac" provides stronger and faster wifi performance. To take full advantage of the 802.11ac signal strength and speed you will need to have access to the updated hardware. I would think a lot of people are still running 802.11n hardware in their home. I realize not everyone is looking to update their home router/modem to the 802.11ac standard, but having this compatibility will ensure some future proofing.
In my test environment, I was utilizing 802.11n wifi standard. I tested the Z580CA signal strength against a number of other devices and it performed as good as and sometimes better. During my review period I didn't have any issues and the wifi performed as expected.
It's also worth noting that you may have come across other reviews stating issues with wifi speed. Be advised that Asus released software update (version 4.2.0) to "improve wifi speed performance" in September. Thus, be wary of what you're reading because the review or comments may have been made prior to Asus updating the ZenPad S 8.0 (Z580CA) software.
Z Stylus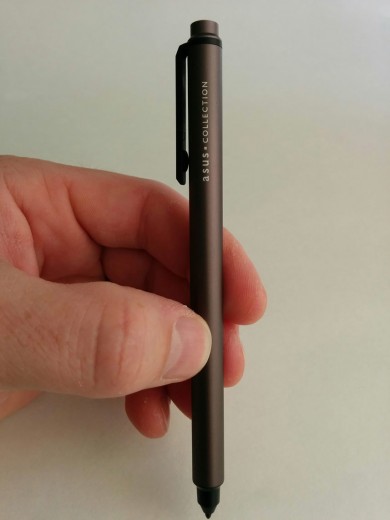 The ZenPad S 8.0 (Z580CA) is compatible with the Asus Z Stylus pen whereas the ZenPad S 8.0 (Z580C) is not compatible. So the question is whether this is a must have accessory and whether the compatibility makes the Z580CA worth the extra money over the Z580C because of it. For some people the ability to use a stylus is a big selling point.
I need to confess that I'm not a stylus expert. With a limited knowledge base, it makes reviewing the Z Stylus a bit tricky. However, I can give you an overview and some details of the functionality that it provides. At this point I'm not going to be able to rate and compare the Z Stylus to other styluses the Microsoft Surface Pen or Samsung S Pen. I will get into more detailed comparisons when I put out a full Z Stylus review in the coming weeks.
At the time of this review, the Z Stylus was not available to buy outside of Taiwan, but we decided to order one via Ebay for this review. With a retail price of $29 US, the Z Stylus is certainly not expensive for what it does. The Z Stylus is a comfortable weight and has a two function buttons. The pen uses a single AAAA battery and Asus says it will provide 150 hours of use and 6 months of standby time. The technology that is powering the Z Stylus is still a mystery but FCC documents point at Hanvon. We hope to hear specifics from Asus soon.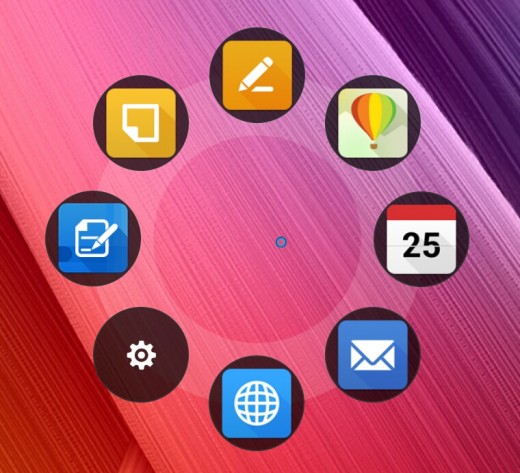 The one function button nearest to the tip is quite logical. When you have the stylus close to the display, you click the button to bring up the quick launch menu. Click the button again to hide the quick launch. The second function button I'm simply not sure about at this time. Yes, I know that sounds bizarre to say but there is very little documentation available. The owner's manual talks about the function buttons on the stylus and mentions the second button is programmable, but it's not exactly clear how to setup that second button.
The pressure sensitivity is evident depending on what your choice of tip is within apps like the Asus SuperNote. Press light on the screen, you get light lines. Push harder and you get thicker lines. So with the calligraphy pen or brush, the pressure sensitivity is significant and seems a lot more realistic. Other tips won't respond differently regardless of how hard you press on the screen.
What we can say with some time spent using the Z Stylus, there is a learning curve. You may have experience with stylus pens which should help, but in terms of holding the ZenPad S 8.0 and deciding which apps to use and how to use those apps the best with the stylus does take a bit of time.
Asus does have a few apps that work well with the Z Stylus and gives the pen a sense of purpose. These apps are found in the quick launch menu that we mentioned earlier. You can change some of the default programs in the quick launch via settings, but here is a quick summary of the ones we used with the Z Stylus.
Instant Page: You can take a screenshot and instantly enter edit mode where you can notate or mark up as you see fit. From there you can share the screenshot to a multitude of places like email, hangouts, etc. One aspect I enjoyed about this particular app is that you can turn off hand touch completely. This means an accidental finger or thumb on the screen won't affect anything. In this mode, it's only the tip of the pen that can interact with the screen. One great use of this app is when using Google Maps. Take a screenshot (volume down + power button simultaneously) and then you can quickly notate the map with details. It's very handy!
Quick Memo: This is a quick and easy way to hand write some notes. Write in the lower box and then it appears in the notepad in the box above. This keeps your writing even, spaced and words can be erased in a similar way to how you do it using the keyboard. In other words you can use a backspace key and it will erase your writing, one entry at a time.
SuperNote: This is the most robust app and has a variety of input methods and document creation. There is a bit of a learning curve to SuperNote because there are quite a number of options and models that can be a little bit confusing at first. It's definitely versatile though.
Cameras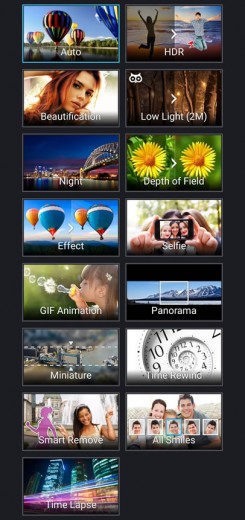 For a lot of people, cameras on a tablet are an afterthought. However, the Z580CA has the best camera specs in terms of megapixels of any ZenPad model, and so it's something that should be included in this review. The Z580CA comes with an 8MP rear and 5MP front camera.
After spending some time using the cameras, I will say the best part is the camera app. It's very quick and very easy to set up a photo with various presets. It's what I call user friendly. Making selections is easy in the settings because icons are labeled clearly. There is no guess work involved which is a welcome change from your typical Android experience. The presets include: Auto, HDR, Beautification, Low Light, Night, Depth of Field, Effect, Selfie, GIF Animation, Panorama, Miniature, Time Rewind, Smart Move, All Smiles and Time Lapse.
When looking at the photo app, I realized that the default settings are not maxed out. Most likely you will want to set up the camera setting for maximum resolution and fine detail. If you take photos without adjusting anything, then you are not getting the best possible image.
The 5MP front camera is more than suitable for selfies and for video chat like Skype. The 8MP rear camera was snappy enough and adds a bit of bonus value. Sure this rear camera isn't going to replace an iPhone or Galaxy smartphone camera, but it will get the job done, especially if your photos are destined for sharing only on social media. If you're looking for quality that you can get enlarged prints, then that's too big of an ask out of a tablet camera. If nothing else, kids will have some fun with the camera and the various preset and photo enhancing available in the camera app.
Here are a few photos so you can judge for yourself how well the camera performs.
Operating System, Software and ZenUI
The ZenUI is what Asus would call their software that runs atop of the Android base. There are many aspects of the ZenUI to learn about, so it's best to download the owner's manual if you end up buying the ZenPad S 8.0 (Z580CA). I would say that I barely scratched the surface in terms of the ZenUI, but here are some things I did enjoy.
When the ZenPad S 8.0 is turned on, screen on, you can double tap the screen to put the tablet into sleep mode. Conversely you can wake up the tablet by simply double tapping the screen. The double tap is handy and will ultimately save your power button extra ware and tear. It's not perfect because to put the tablet into sleep mode via the double tap, you need to be outside of an app. So when you're on the home screen and have a lot of app shortcuts you may find yourself launching those rather than putting the tablet into sleep mode. Really all you need to do is figure out where a neutral spot is on your home screen. Ultimately this feature works best when double tapping the screen to bring it out of sleep mode and it will wake up to whatever was on the screen at the time it went to sleep.
The keyboard settings allowed for five different sizes. The "Very Tall" version I found to be excellent because text buttons were larger and the height of the keyboard allows for additional keys on screen.
The Asus battery saving mode is not buried like the pure Android battery saver mode, and it does a great job if you are not using your tablet over extended periods of time. Sure there are apps that exist to save battery power, but Asus has a more user friendly approach. Additionally, Asus ZenUI identifies and tells you the battery hungry apps you have running.
When charging, the software provides an estimated time it will take for a full charge. This should help your battery over the long haul so you can avoid overcharging. Perhaps this is widely known, but Asus clearly states in the small owner's manual that you should unplug the charger when your tablet gets to 100%.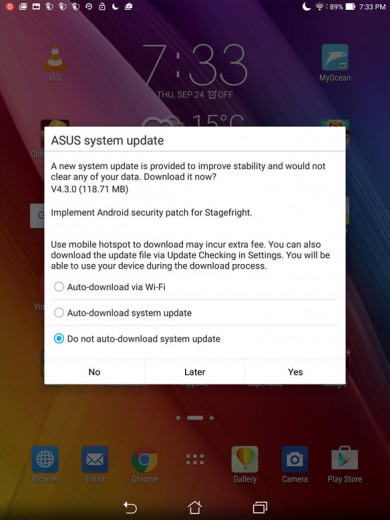 You may have read some initial ZenPad S 8.0 reviews which complained about the amount of pre installed apps or "bloatware" as some people call it. However, since that time, Asus released a software update that allows users to disable most of the pre installed apps. This example should give you confidence that Asus is listening to what users are saying and is responsive to feedback. People get excited when Google updates their Android OS, and ZenPad owners should get excited when they get a software update notification. During the review period, there were three software updates rolled out to the Z580CA. Each update offered fixes and improvements which is encouraging. It says that Asus is working to improve performance and fix issues that come up.
Conclusion and Summary
With Asus launching "Zen" branded devices, they wanted to provide beauty and value at a friendly price. Given that the Z580CA is packing some of the top hardware and the price is much less than the competing flagship tablets, I would suggest that Asus succeeded in their vision. It would be nice to compare the Z580CA to a similarly priced Android tablet, but you simply aren't going to find this value. In a sense, Asus pushed the envelope in terms of the cost vs. value. In the end, the Z580CA is a great value for the consumer.
A fast Intel Z3580C processor at 2.3GHz and 4GB of RAM will certainly keep up with processor demands well into the future. Front facing speakers make the ZenPad S 8.0 (Z580CA) a great media consumption device. You get the newest 802.11ac wifi standard which offers the Z580CA some "future proofing". You will be able to see video in a new way, more smooth than ever before, thanks to the Tru2Life+ technology. To top it all off, you also have the option of the Z Stylus pen accessory.
Is the ZenPad S 8.0 (Z580CA) without faults? No device is perfect, and some aspects of the Z580CA are not perfect. While going caseless with our Z580CA and being very careful, we still managed to get some scratches on the back. Such is plastic, but showing wear and tear is only really going to be a factor if you actually go without a case or cover. Most people don't, so resistance to scuffs should be a non issue for most everyone. The battery life is not top of the class for 8-inch tablets, but it's by no means bad. Although for us, bloatware is not an issue (the cheap price of the Z580CA should garner a bit more tolerance in our opinion), but some people might be bothered by the pre-installed apps. However, in the time we had the Z580CA, Asus updated the software to allow users to disable most of the pre installed apps. If you have read complaints online about bloatware, keep in mind the source of those complaints and if those issues were raised before Asus updated the software/firmware. Chances are the negativity was before Asus addressed those complaints via a software update.
When it comes to price vs. what you get, the ZenPad S 8.0 (Z580CA) is a winner. The display is right up there with the top end tablets such as the iPad mini series and the Samsung Galaxy Tab S series. It's thin and light just like the aforementioned flagship tablets. Although it's made of plastic, it has a real premium look, design and feel. When you're using the Z580CA it doesn't feel like a cheap tablet, although compared to the other top end tablets it certainly is much cheaper.
Asus delivered what they promised in this flagship ZenPad tablet. Being part of the "Zen" family, Asus said they want to provide luxury at an affordable price. On that goal, they delivered.
Click Here – Shop Here For A ZenPad S 8.0 (Z580CA)